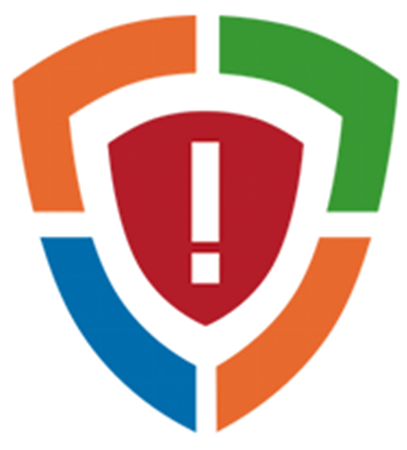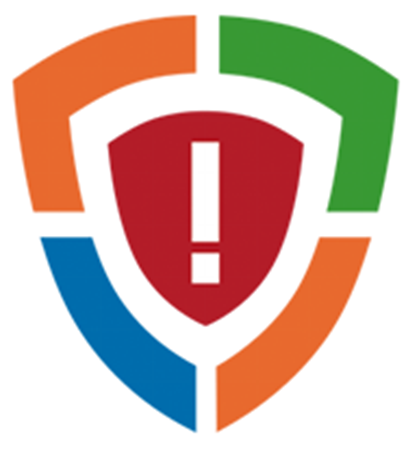 You may have either, recently, become aware or are simply unaware of the security threats posed to your personal data, including vital ones such as your online banking login details and your credit or debit card details, if you are still dependent on only an antivirus to protect your computer against attacks from cybercriminals and other types of threats.
This includes threats from malware like cryptoware (also known as ransomware), Trojans, spyware, adware, keyloggers, and many more.
While antivirus programs were sufficient to protect the data in your hard disk drive a decade or so ago, they do not have the capability to ward off threats by malware. If you still do not believe me, go through my HitmanPro Alert review to find out how cybercriminals are taking advantage of your negligence to steal your private data.
I have tested many other malware programs and have decided to stick with Hitman Pro Alert, as it provides my computer with maximum security. It hardly eats into my computer's resources, allowing it to provide peak performance.
Review of HitmanPro Alert
I have no bias towards this program and I am penning whatever I actually experienced with this program before writing this HitmanPro Alert Review. If you do not believe my views, search online for other HitmanPro Alert reviews, and you will be convinced.
Real-time Protection
Cybercriminals are finding new ways to thwart the defense of antimalware programs. Therefore, it is vital that the developers of such programs always stay a step ahead by detecting these threats, find a solution for it, and add it to the database of known threats as quickly as possible. However, this is not as easy as it seems, and it might take the developers several days or even weeks to code an antidote for such threats.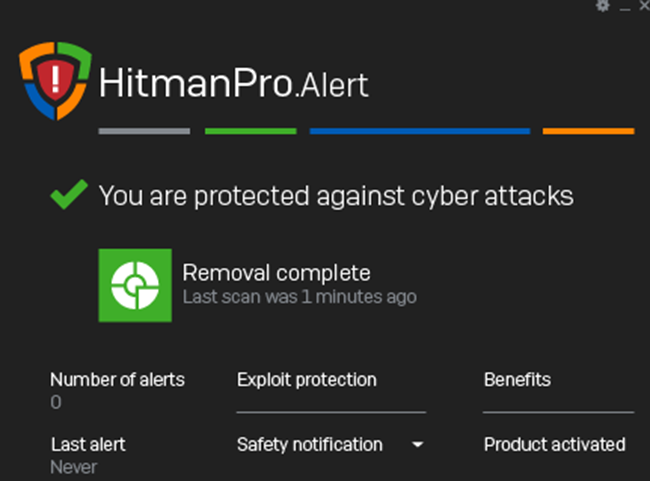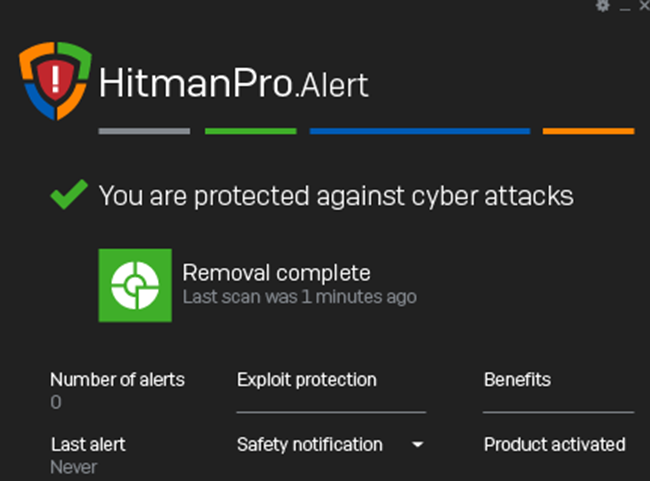 Can you imagine the situation if ransomware encrypts all of the data stored in your hard disk drive because your antimalware program was not able to detect it? You will have no option other than to pay the ransom in Bitcoins and pray that the recipient sends you a key that allows you to decrypt the encrypted data.
This is where the Hitman Pro Alert anti-malware shows off its class. It uses behavior technology to detect yet unknown threats, quarantines them, and sends a copy of that file to the developers. This is known in technical terms as Heuristic detection. This detection and quarantining ability of the program should satisfy skeptical persons who refuse to believe something without proof of how good is Hitman Pro Alert.
Stay Away from Pirated Software
You should never opt for pirated software, as most of them use "keygens," an executive file supposed to generate a serial key for activating the program. However, people, in their hope of getting software for free, keep on downloading such stuff on a regular basis.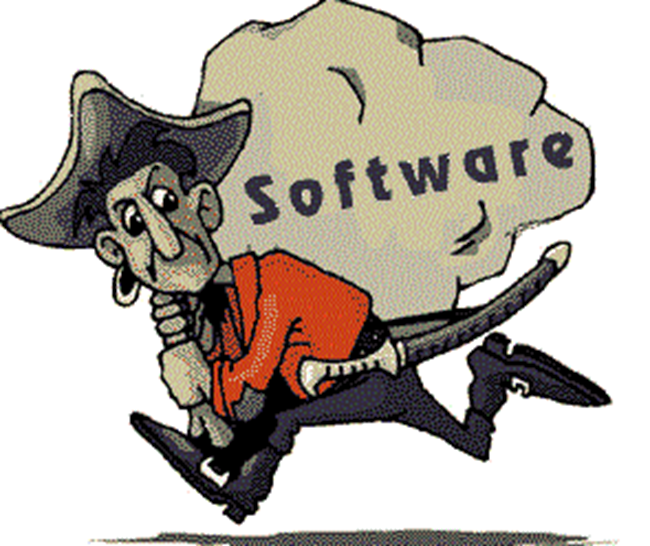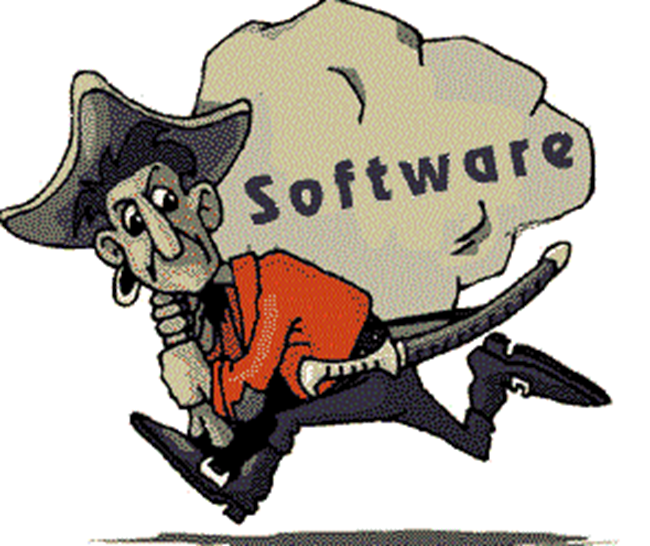 Cybercriminals often tap into the greed of such individuals and often include malware in those keygens. By the time you realize that there is something wrong with your computer, as it is booting slowly or is showing some erratic behavior, it will be too late.
More and more companies, offering free software, include other programs with it that install themselves on your computer's hard disk drive during the installation process unless you are careful enough to see the alert requesting your permission to install those programs. Not only do they slow down the speed of your computer, but they also allow other parties to display popup ads while you are browsing the net.
Running the Hitman Pro alert scan, allows you to track such threats and remove them from your computer.
Awesome Scanning Speed
I was awed by the awesome scanning speed of this antimalware and antivirus bundle, which is faster than all other similar programs that I have tested and can safely state in my HitmanPro Alert review, that this is by far the best one software solution to protect your computer from all types of threats both online and offline.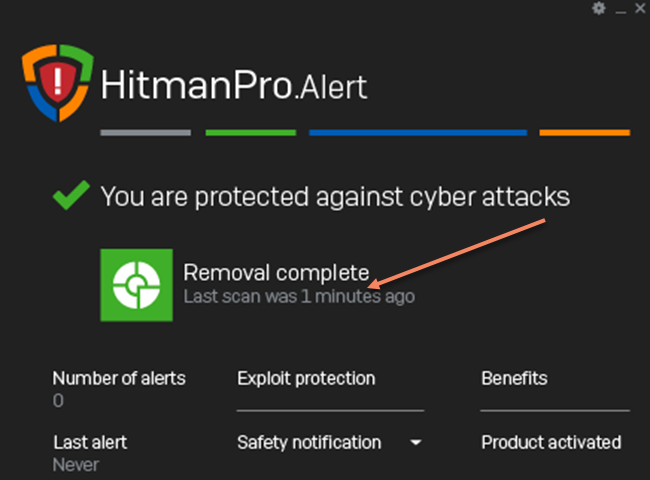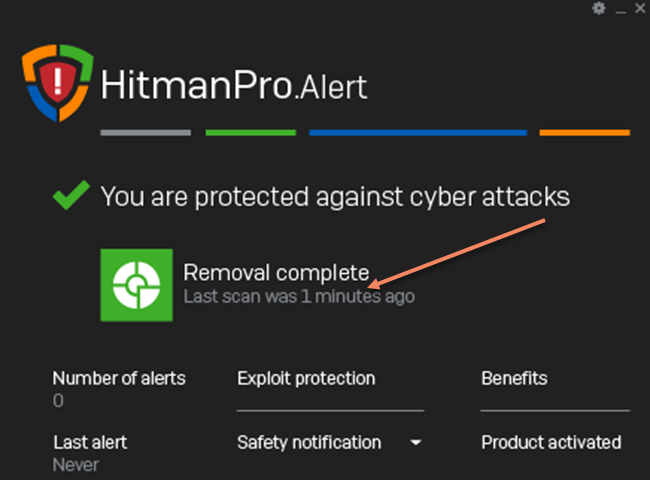 By offline I mean that HitmanPro Alert antimalware detects threats in your rewritable CD, DVD, and pen drives, and prevents the malicious code from compromising the security of your computer.
I have received requests from many individuals who had purchased HitmanPro Alert on whether they should also download a separate antimalware or antivirus. The answer is "no" as Hitman Pro Alert already contains the antimalware and antivirus modules.
HitmanPro Alert's Compatibility
This program runs efficiently on Windows 7, Vista, and Windows 10, and supports both 32 bit and 64-bit architecture.


If you still have any doubts, I strongly recommend that you go for the HitmanPro Alert free download, install it on your computer, and run the scanner. You will be surprised by the number of infections it detects, which your antivirus or another antimalware program could not.
Unlike most other malware programs, downloading the Hitman Pro Alert 30 day free trial, provides you with a working copy of the program that scans and detects malware on your computer. It also offers keystroke encryption, browser protection, protection against infected USB, as well as webcam notification (useful when someone is attempting to hack your computer's or laptop's webcam), especially when you are using it on an unprotected public WiFi network.
The developers have chosen to add this option as they want their customers to experience the power of their program, knowing fully well that they will purchase a license on expiry of the free trial. The paid version contains all the modules of the free version plus ones such as:
Some HitmanPro.Alert Features
• PUP (potentially unwanted programs) protection and remediation. Typically, these programs install themselves on the computer without the user's approval or knowledge.
• Real-time protection
• Anti ransomware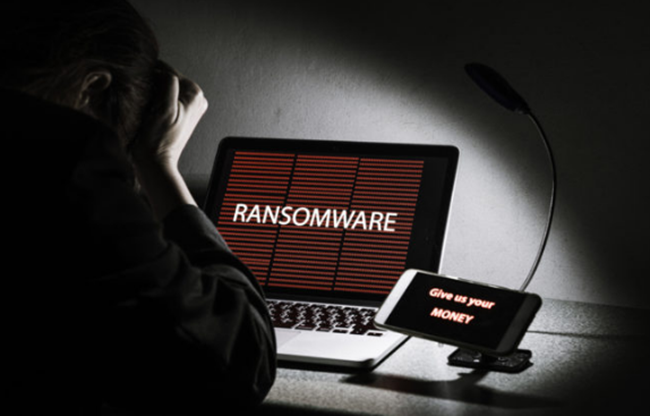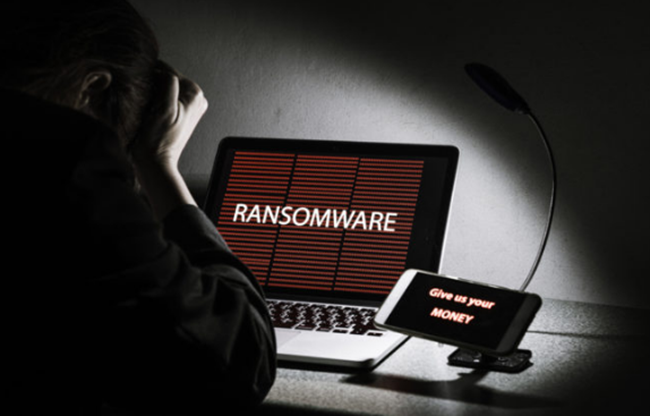 • Anti-exploit (Typically, 0-Days are meant to exploit your computer, and they can be used to put malware on your system. Hitman Pro prevents these exploits from executing).
• Protection against malicious websites (prevents your browser from opening malicious websites that can infect the hard disk drive of your PC).
• Anti-rootkit (protects your computer against rootkits that load in memory before Windows launches, following which it is impossible to remove. This module boots your computer in safe mode and removes this threat).
• On-demand antimalware scanner (permits you to perform a scan for infections in places where malware typically hides such as file system, registry, and memory).
• Cloud-based multi antivirus scanning engine (works extremely fast as it does not depend on your computer's resources).
You Will Not Find Any Mention of Antiviruses
There is no need to write a Hitman antivirus review, as the main program is inclusive of the best antivirus available. Coded by Sophos, one of the oldest and most trusted computer security experts, you can rest assured that you will get full value for your money.
You can download HitmanPro Alert from the developers of the program by visiting their website and clicking on the "Buy Now" button to download Hitman Pro Alert full version. Alternatively, you can opt for the free HitmanPro Alert download by clicking on the green "FREE 30-Day Trial" button.
Provides Maximum Protection When Connected to the Net
You need to be connected to the net to take advantage of the high-speed cloud-based multi antivirus scanning engine offered by HitmanPro.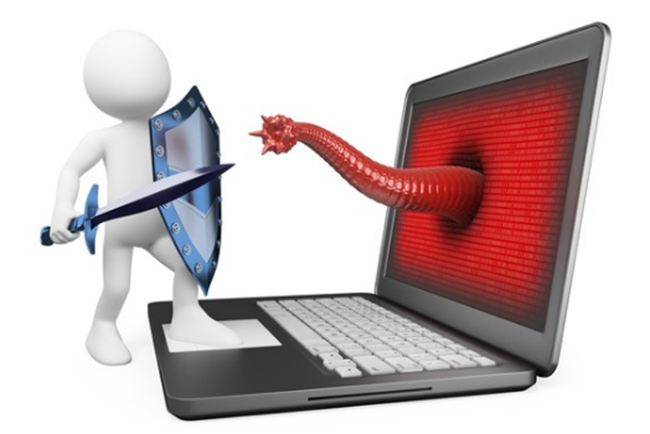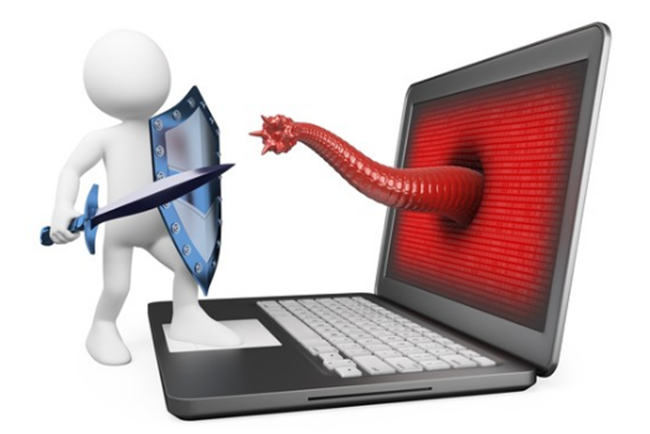 While almost all programs in this category are good at protecting a clean system (one that is not infected), HitmanPro goes a step ahead and can easily clean an infected computer. Apart from this, this program is the ruler as far as protection from ransomware is concerned.
I recommend that you download it from the vendor's website to get Hitman Pro Alert latest version. Here are details of the annual subscription charges of HitmanPro Alert.
Pricing
• Price for 1 PC for 1 year is $34.95
• Price for 1 PC for 3 years is $69.95
• Price for 3 PCs for 1 year is $54.95
• Price for 3 PCs for 3 years is $104.95
How to Get HitmanPro Alert
Select the option you want using the drop-down menu on the vendor's website, and click on the "checkout" button. Your browser will be redirected to an online form that you have to fill up with your details including your email.
Once you have completed the online payment procedure, your browser will be redirected to a page containing the download link for Hitman Pro Alert software. Click on the HitmanPro Alert download link to initiate the download process. You will also receive the serial number required to activate the program via email.
After you buy Hitman Pro Alert from the Hitman Pro Alert official website, your next step is to install HitmanPro Alert on your PC, by following the on-screen hints.
Finally
I am sure that after reading this Hitman Pro Alert review, you will get Hitman Pro Alert… either the 30-Day trial version or the paid version, by clicking the requisite Hitman Pro Alert download on the vendor's website.
Protect your computer against all types of malware and thwart the attempts of cybercriminals from snooping on your PC by subscribing and installing HitmanPro Alert today.