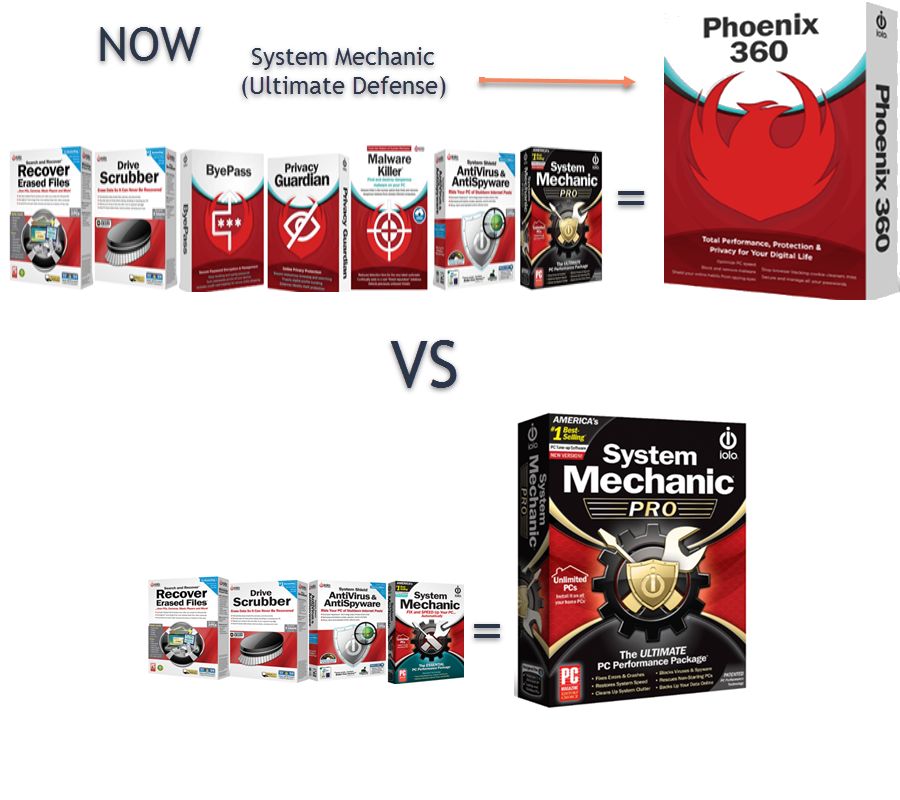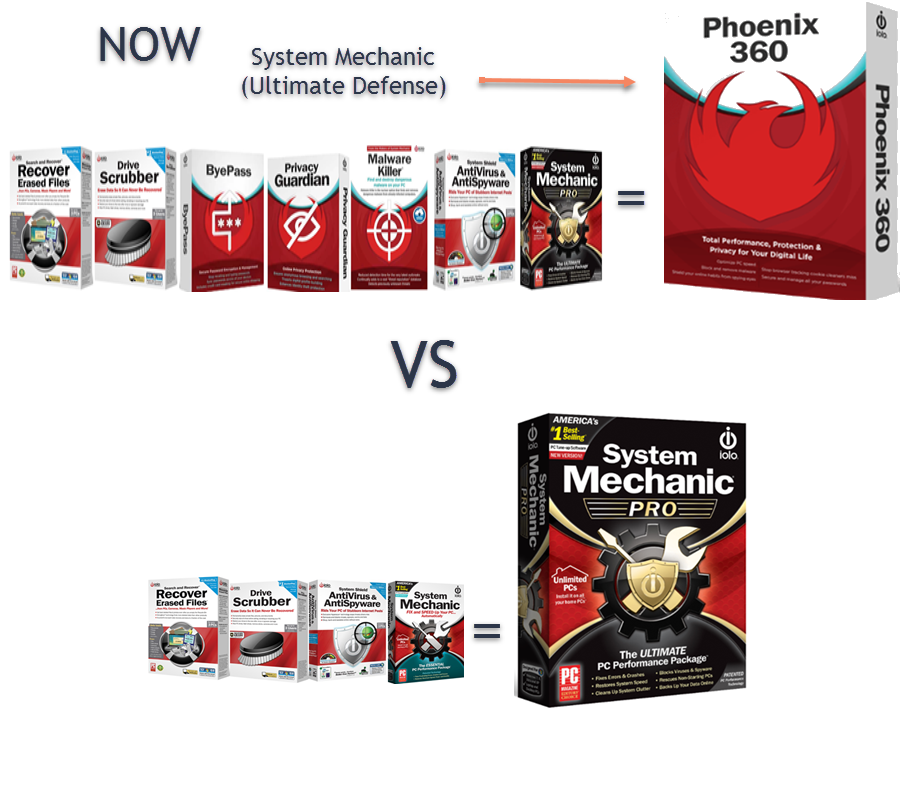 Are you witnessing a degradation in the speed of your computer? It is not working as fast as it used to when you purchased it. Programs that used to launch almost immediately now take several seconds to start.
This is not due to a virus or malware attack as you have installed the best available antimalware software with the latest signature files. This slowdown is typically caused by the fragmentation of your computer's hard disk drive.
Quickly Navigate to:
What Causes Fragmentation?
Adding and deleting files typically leads to fragmentation of the computer's HDD. When you delete a file, the file itself does not get deleted. Its information is deleted from the `table of contents and the file is marked as "ok" to write over.
Apart from this, most uninstall executives of programs do not function as they should. Therefore, when you uninstall them, some parts get erased from the HDD while other parts remain. The next time you install a new program, it looks for the first empty space in the HDD and writes on it. When the size of the free space is not enough to install the new program, it searches the HDD for the next empty space and writes the remainder on it.
This slows down the speed of the computer as the drive head has to read different areas of the HDD to complete reading a program and launching it.
If this is not enough, many programs leave unnecessary entries in the Windows registry even after the program has been deleted. This leads to a bloated registry, which slows down the booting time of your computer too.
Massive Slowdown?
Can you imagine what can happen if you have uninstalled many programs that may have left empty spaces in the HDD, and try to install new software? It will write itself in multiple areas of the HDD's platter, leading to a massive slowdown when you try to launch the program.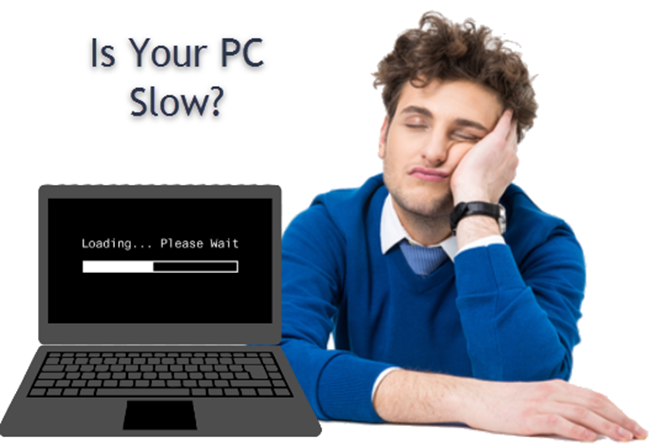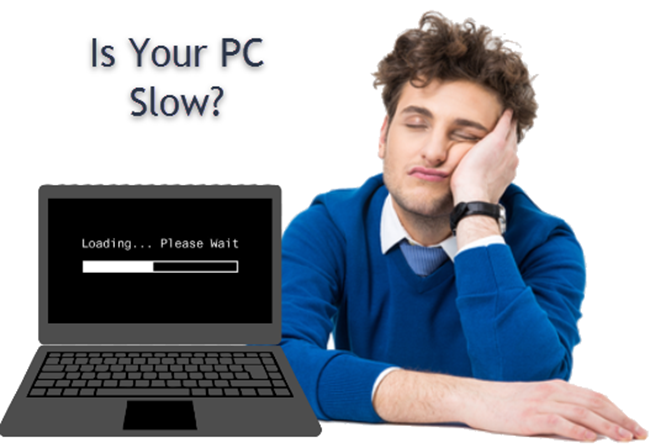 For example, the read head of the HDD might have to five or more different locations of the HDD to gain access to the information required to launch the program. This causes the program to take a longer time to launch than if the entire program was entirely in one location.
How Does Defragmentation Work?
The defragmentation procedure moves the different parts of a file or program and regroups them in a single location. The process does not take a long time if you defrag the hard disk drive on a regular basis. However, be prepared to wait for hours, especially if you have a huge HDD and have not defragmented it for several weeks.
Forget using the defragmentation tool included with Windows, as it hardly does a good job of cleaning the clutter and takes a long time. In addition, it does not remove traces of the deleted files or uninstalled programs from the registry, further slowing down the overall speed of the computer.
WARNING: Never try to defrag flash drives and solid-state devices as this will decrease their life span.
Am I Doomed to Stay with a Slow HDD?
The good news is that you can depend on third-party programs that defragment the hard disk drive of your computer, as well as remove unwanted entries from the operating system's registry.
While there are numerous such programs available, I shall be comparing System Mechanic Pro vs Phoenix 360, which, in my view, are the best system maintenance programs available.
What is the Difference Between System Mechanic Pro and Phoenix 360?
Both of them are coded by the same company with the difference being that Phoenix 360, apart from including System Mechanic Pro, also contains many other important tools such as Privacy Guardian, ByePass Password Manager, and Malware Killer.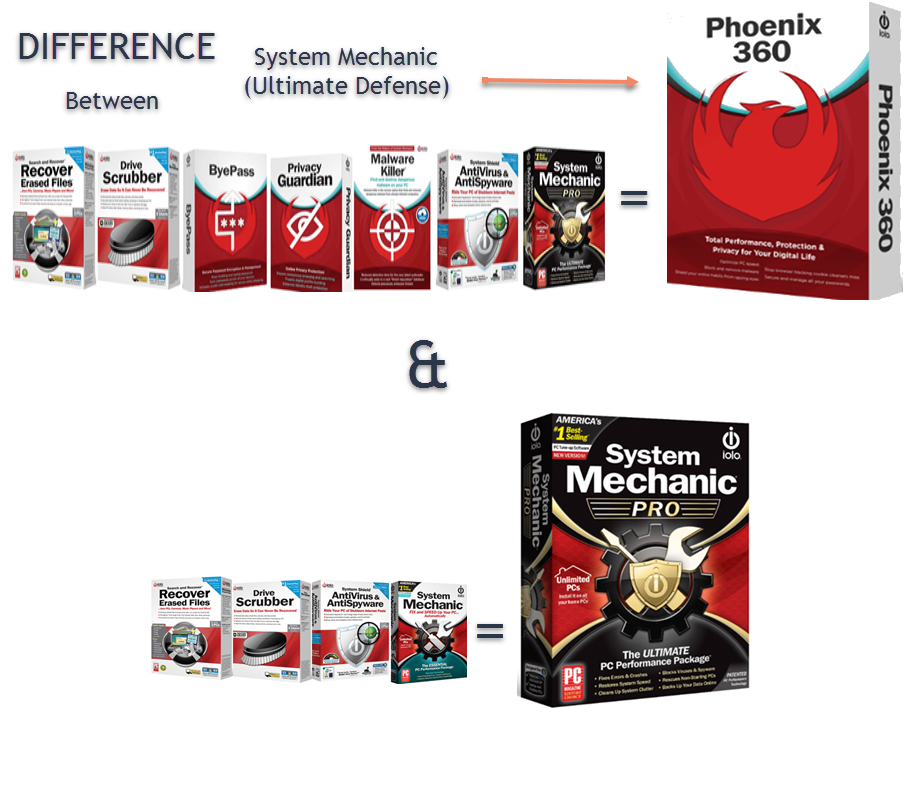 Apart from defragging your computer's HDD and cleaning the operating system's registry, they perform many other tasks that will increase the speed of your computer and increase the lifespan of its hard disk drive.
For example, they can check your computer's WiFi connection and tweak settings to boost the speed of your internet connection.
They also allow you to either manually defrag the hard disk drive or perform the task automatically by running in the background without eating into system resources.
You can, in fact, increase the life of the hard disk drive with the help of these programs, as its head does not have to move frequently from one location to the other to find and open a file or launch a program.
By the way, if you have not purchased an antivirus or antimalware program, you can depend on one of these programs, as they include many security tools, including antivirus and antimalware.
Iolo Phoenix 360 vs System Mechanic Pro Comparison
I shall first review the System Mechanic Pro, as it is also included with Iolo Phoenix 360.
System Mechanic Pro
Easy to Use
As opposed to many other system performance booster tools available, there is nothing confusing or opaque about this program. It contains a lot of options and each one of them is labeled clearly with in-depth descriptions about their functionalities as well as the effect of optimizing or deleting the item in question.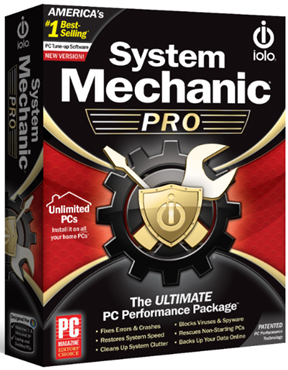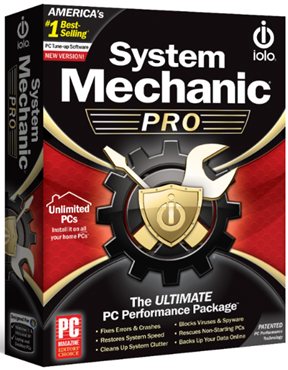 Protects Against Malware
This utility, apart from boosting the overall performance of your computer, further includes top-quality protection against malware. It employs behavioral (heuristic) analysis to catch threats even if they have not been cataloged and included in Iolo's huge database.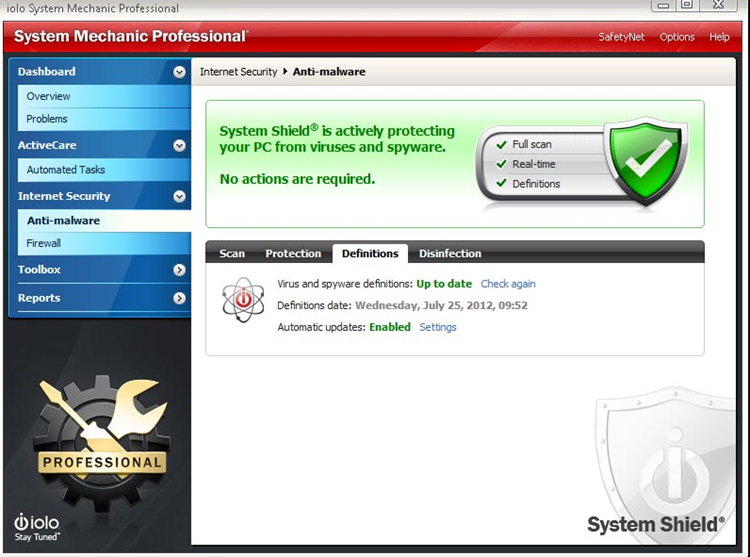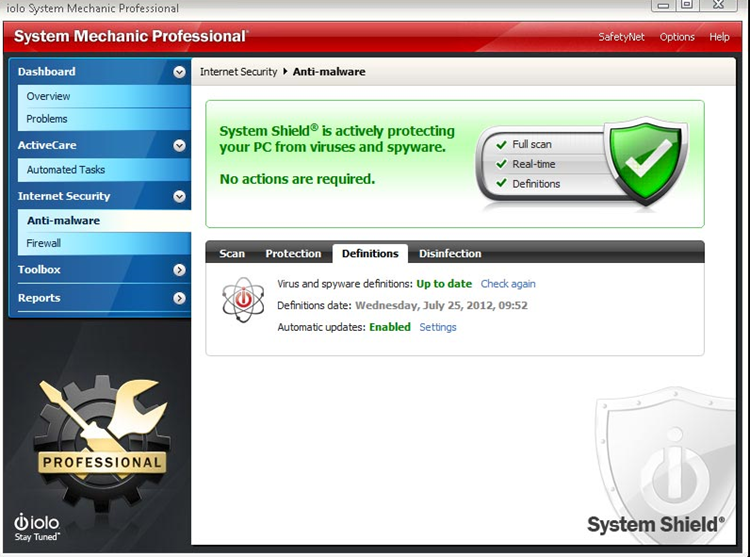 Blazing Fast
You need this program in case you only want to quickly tune up your PC. Its user-friendly dashboard ensures that you understand all of its functionalities quickly. A single click is all that is required to check the HDD for issues such as unnecessary browser cookies, missing or broken registry entries, and junk files. This program has a lightning-fast scanning engine.
Easily Fix Issues Slowing Down Your PC (Automatic Regular System Maintenance)
Once the scanning is done, you can fix all identified issues with a click of the mouse button. Once you have completed the initial scan, you can depend on the program's ActiveCare module to undertake regular maintenance whenever your computer is idle.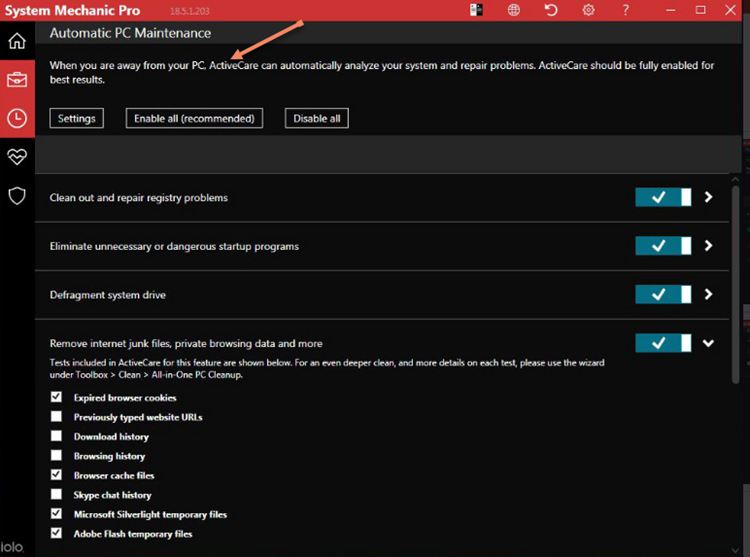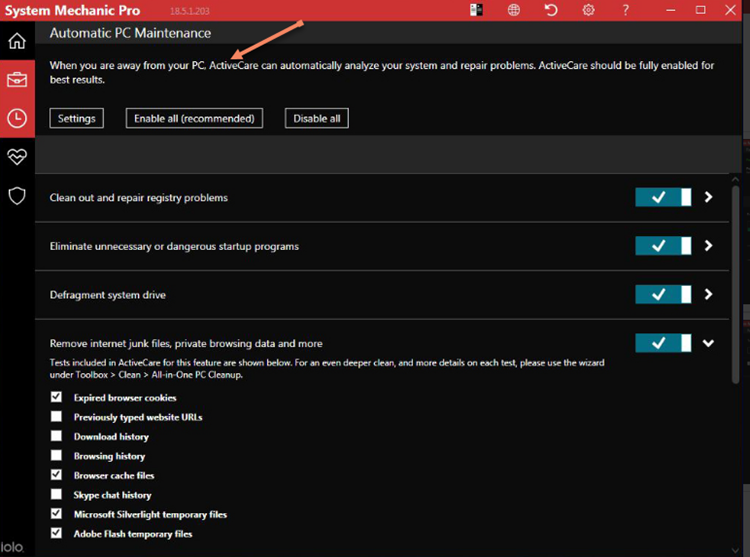 I would suggest that you check the options available, as you might not want the software to delete cookies or clear your clipboard automatically.
Increases Internet Connection Speed
As mentioned earlier, you can use this software to boost your internet connection's speed.
Speeds Up PC Booting Time
The "startup manager," which includes a rating from the Iolo community for specific programs, helps you decide which program you should block from launching at startup for faster booting.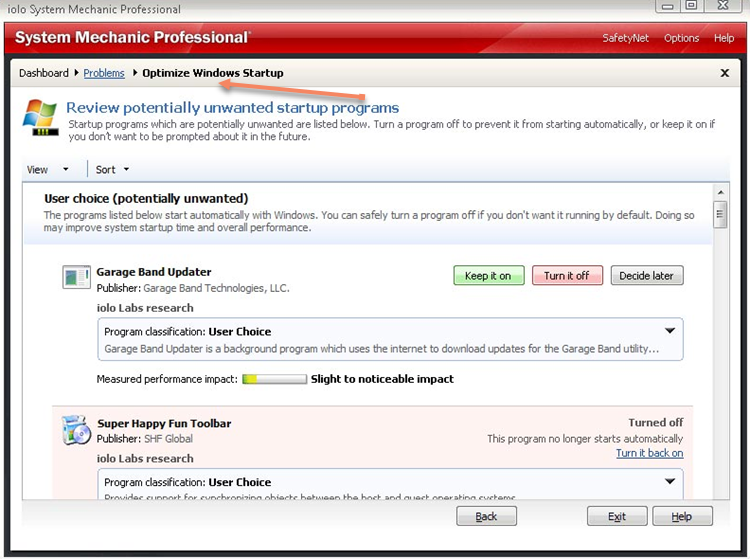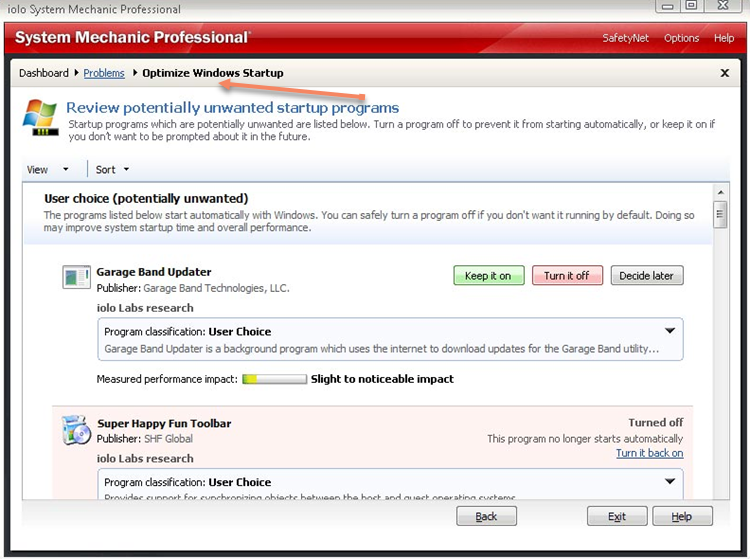 I suggest that you also select the "expert view" during this operation as it identifies low-level programs and drivers, which can cause system stability problems if disabled.
Includes DriveScrubber
I was highly impressed by the DriveScribber module of System Mechanic Professional. Apart from erasing files securely, it also cleans up USB drives.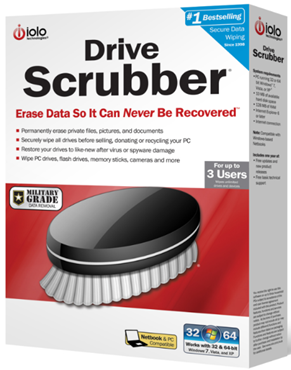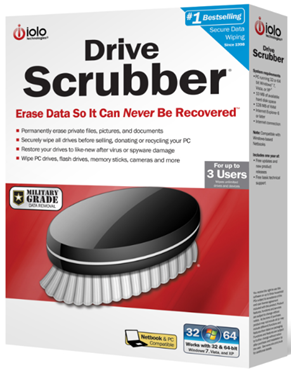 This is the perfect tool for those who want to sell off their old computer and want to remove all files from it in such a manner that it is unrecoverable.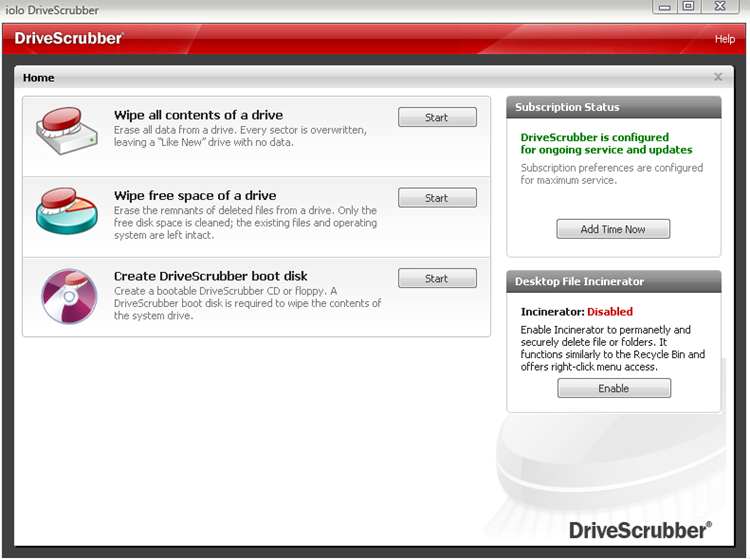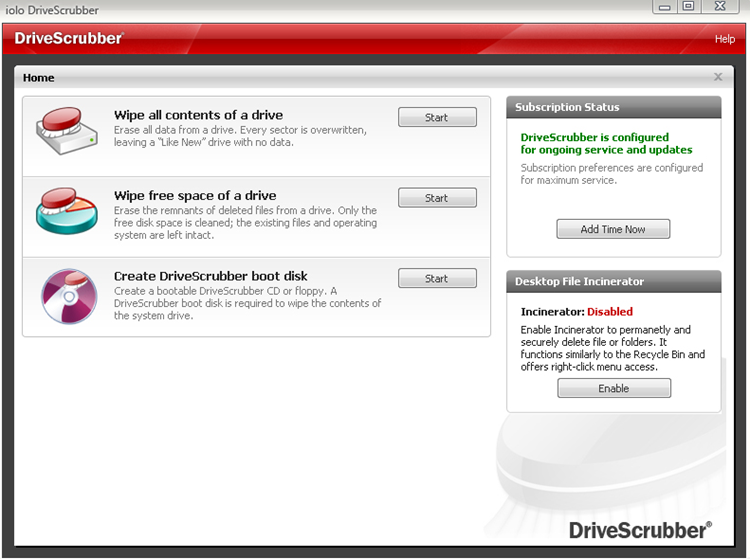 As I stated earlier, this tool also boasts of an excellent malware tool, which, apart from detecting malware, removes them too.
In simple terms, this software:
• Cleans useless clutter
• Boosts internet speed
• Provides security and privacy
• Removes bloatware
• Boosts PC speed
Price
System Mechanic Pro, normally available for $69.95, is currently available for a discounted price of $55.96. The vendor offers a trial version too. It works with Windows 7, 8, 8.1, and 10. The price includes a 1-year license for updates to the antivirus and antimalware database.
You have to purchase a new license after 1 year to keep these features up to date.
As this utility offers so many features, let's delve more into the difference between System Mechanic and Phoenix 360 by taking a look at the latter.
Phoenix 360 Compared to System Mechanic Pro
When you purchase Phoenix 360 (now known as System Mechanic Ultimate Defense due to its integration into the System Mechanic family), you get all the functionalities of System Mechanic Pro and much more.
Let us dive under the hood of this offering from Iolo to find out what makes it better.
Phoenix 360 features some awesome online security tools such as malware killer, malicious software cleaner, password manager ByePass, and privacy guardian.
Phoenix 360 System Mechanic Review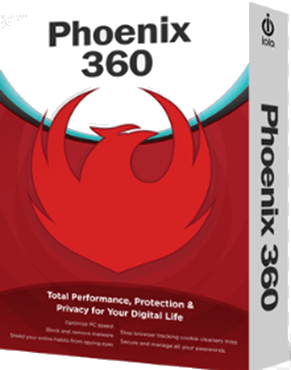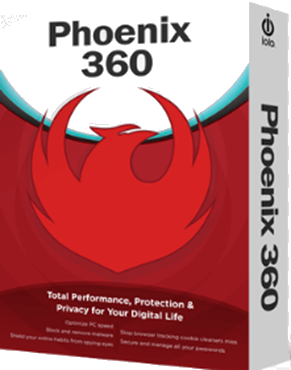 Phoenix 360 contains the following programs and more:
Privacy Guardian
Privacy Guardian employs an "anti-fingerprinting" module to protect your personal information when you are online. In effect, it prevents trackers that follow you from one website to the other to build a profile that can be used to target you with unnecessary and personalized ads.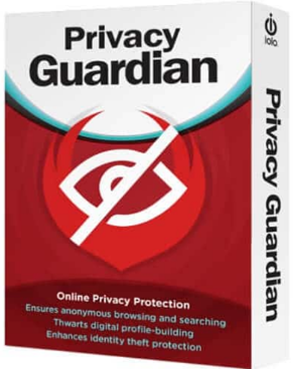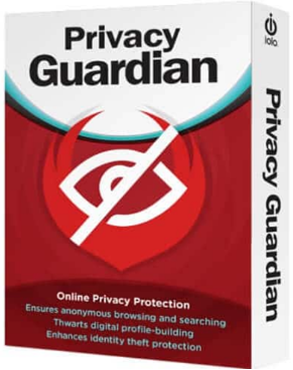 In addition, it provides you with information about sites that are tracking you along with the number of times it has prevented your browser from being profiled.
This feature, in tandem with ByePass, one of the most secure password generators & managers, keeps all of your logins in an encrypted vault that can only be accessed through a master password.
It also boasts of dual authentication, securing your online payments further.
Malware Killer
Malware Killer prevents malicious software from attacking your PC and removes existing infections. Be prepared for a surprise when you find the number of infections present in your system once you install and run this tool.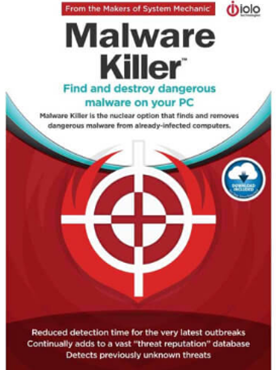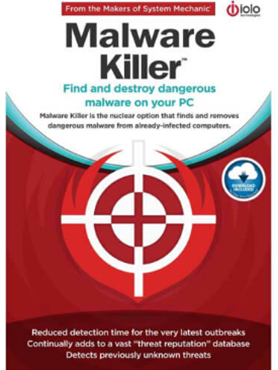 This tool also uses heuristic analysis to block suspiciously acting programs. As this module is cloud-based, it hardly slows down your computer's performance.
ByePass
'ByePass' is simple to use. You only have to make an account using your email ID along with a master password. Make sure that you write down this password somewhere else in order not to lose or forget it.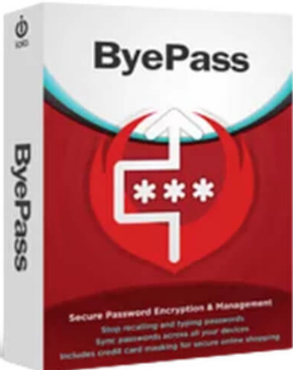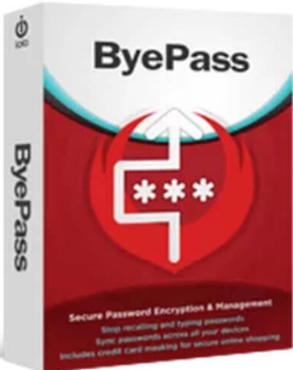 You have the option to manually add account details or let the module do the job automatically each time you log on to a new site.
Apart from generating secure passwords, this module can store notes as well as your credit card information.
This module permits you to view the accounts you are currently logged into, and log out from all of them with a single click of the mouse button, even if you have logged into these accounts from a different device.
This is more powerful than cleaning the cookies of your browser, as cleaning cookies only removes information from the device you are using.
I am sure that by now you must have decided whether to purchase Phoenix 360 or System Mechanic Pro. However, there are some more features in the former as you will find in this review as I continue to compare Phoenix 360 and System Mechanic Pro.
Shredder
Phoenix also contains a powerful and military-grade digital shredder, which deletes the contents of the hard disk drive of your computer beyond retrieval when you need to erase or delete something, permanently, from your PC.
This is quite handy when you want to sell your old computer to someone else and want to ensure that the other person does not have access to your sensitive data.
Did You Delete Any File By Mistake? Easily Recover it
You can depend on this program in case you have accidentally deleted a file. Its file recovery module allows you to recover a deleted file quickly and efficiently.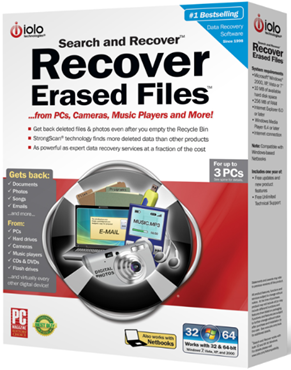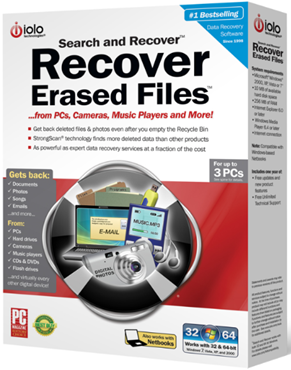 The pros of this program include:
• Deleting sensitive data permanently
• Recover deleted files
• Remove existing malware and prevent new ones from entering
• PC speed optimization
Price
Phoenix 360 is slightly costlier than System Mechanic Pro. It normally costs $79.95 but you can buy it for a limited period for only $63.96. As with the other tool reviewed, you have to update the license each year to ensure that you have protection with the latest antivirus and antimalware database.
Downloading Either of the Programs
To get System Mechanic Pro or Phoenix 360 visit the site of the vendor. Click on the "get it now" button. Your browser will be redirected to their purchase page.
Which is Best?
So, "Is Phoenix 360 better than System Mechanic Pro?", you may ask.
While both programs are equally good, the additional modules of 360 make it a clear winner, considering the fact that the difference in price between System Mechanic Pro and Phoenix 360 is only $8.
Why take a risk with your sensitive private data while browsing online and why allow viruses and malware to cause havoc to your programs when you can use one of the two programs reviewed above to safeguard it?