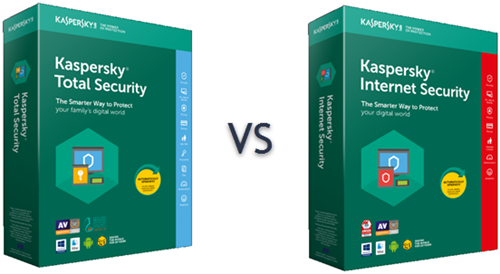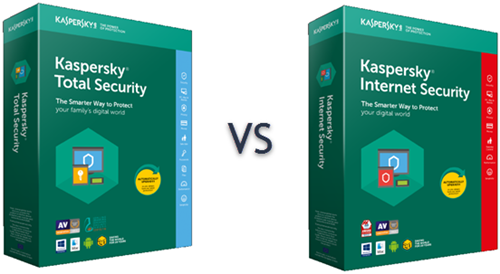 Browsing the internet without any security software is like driving a car without any anti-collusion system.
The internet is full of dangerous sites that can inject malware on your computer and use it to note down your keystrokes. This can allow the coder of the malware to gain access to your private information such as your credit card details and your online banking login credentials.
The good news is that most individuals are educated enough to install security software on their computers. The bad news is that they do not bother to check the protection provided by such programs before making a purchase and installing the program on their computer.
Anti-virus Programs Are Not Equal – 2 Types You Should Be Aware Of
They need to know that online protection programs are available in two variants… one that only provides protection against viruses and a couple of malware and the other that provides comprehensive protection against all types of online threats such as ransomware, Trojans, keyloggers, and much more.


Many companies specialize in developing and marketing these types of programs. However, Kaspersky is, undoubtedly, the king, as far as online security is concerned.
This company offers two types of online threat protection programs… Total Security and Internet security that are both good for Personal, Home, or Business ventures.
I will go through both of them in this Kaspersky Total Security vs Internet Security 2022 review so that you can understand the difference between the two of them and decide which is best suited for protecting your computer and other devices.
The Difference Between Kaspersky Total Security and Internet Security 2022
The main difference between Kaspersky's Total Security and Internet Security is in the number of devices that can be protected and the additional features contained in the Total Security version. For instance, while Internet Security can protect up to 5 devices, Total Security can protect up to 10 devices and includes password manager, safe kids, and file protection.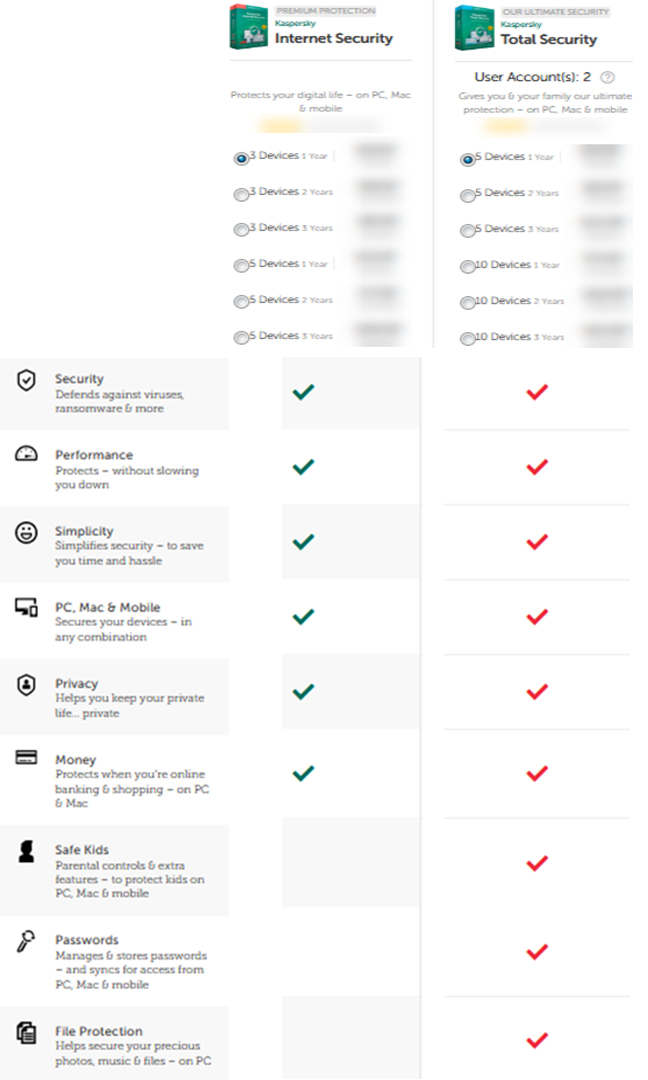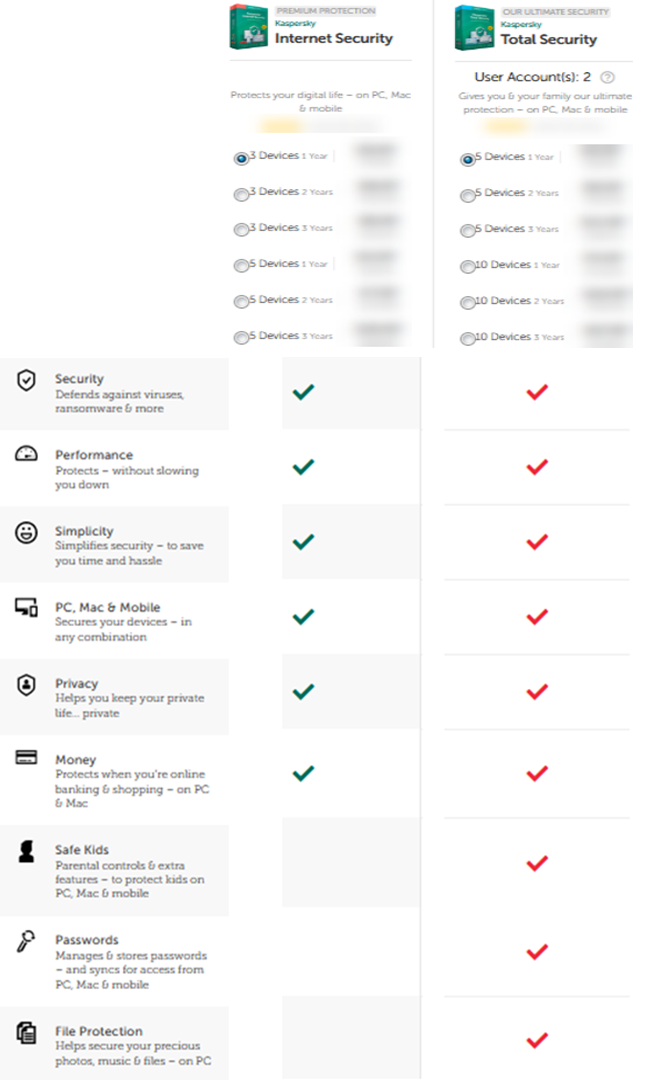 For A More Detailed Comparison, You May Read Further
Let us, without further ado, compare Kaspersky Total Security to Internet Security in detail. I shall be reviewing both the programs together.
They are both identical, but for the difference mentioned above.
Kaspersky Total Security 2022 vs Kaspersky Internet Security 2022
Kaspersky Total Security (KTS) has 7 basic options: my Kaspersky, parental control, backup and restore, privacy protection, password manager, 'safe money', and database update whereas, you will not find 'Safe Kids' or 'Password Manager' in Kaspersky Internet Security (KIS).
Scanning for Virus
BOTH
The scan option of both is, unarguably, the most important feature of this easy-to-understand program. It allows you to do complete or selective scans. This means that you can scan the entire hard disk drive or a folder. You can also scan external drives such as a USB stick or portable HDD.
Kaspersky has gone one step ahead and included "Safe Browser," a dedicated sandboxed driver.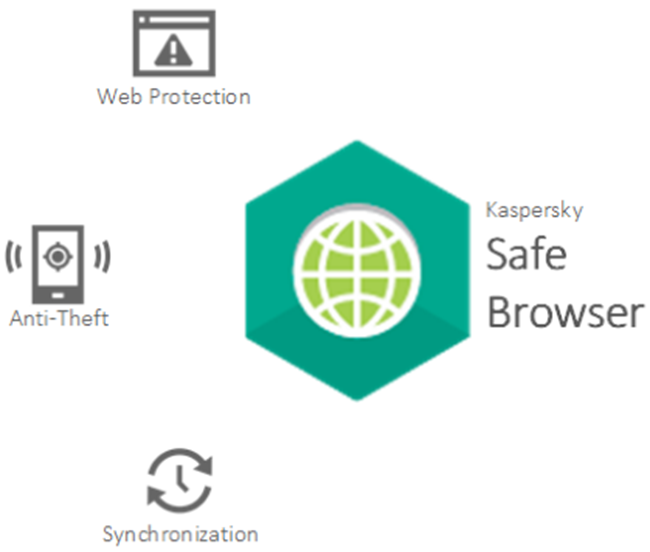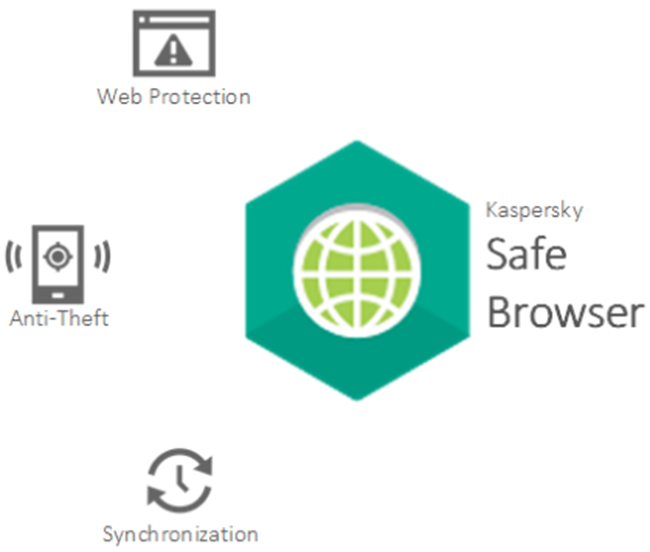 Safe Online Financial Transactions
BOTH
This protected browser separates your online activity, meaning that you can safely use it for your online financial activities.
You can use this feature for purchasing goods from online stores like Amazon or even use it for safe online banking.
This feature automatically adds payment system sites or your bank to its database, once you visit such sites. The next time you visit these sites again, a pop-up appears, which gives you the option to open the site in the protected browser.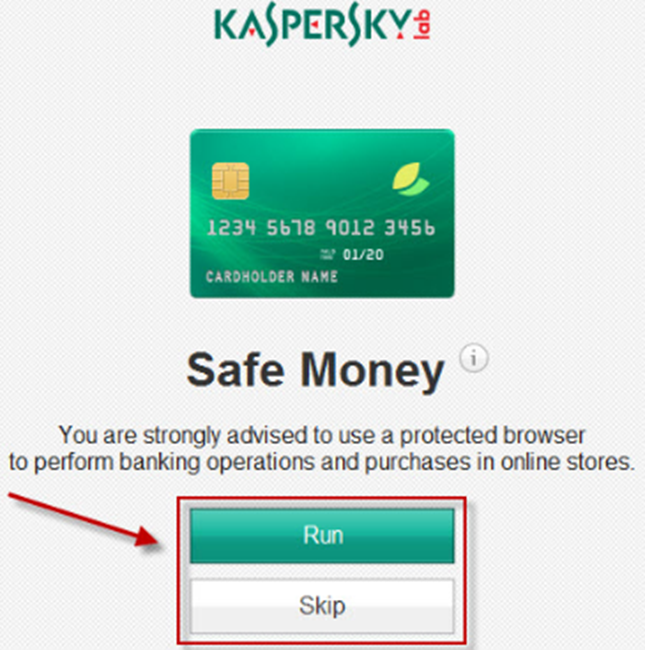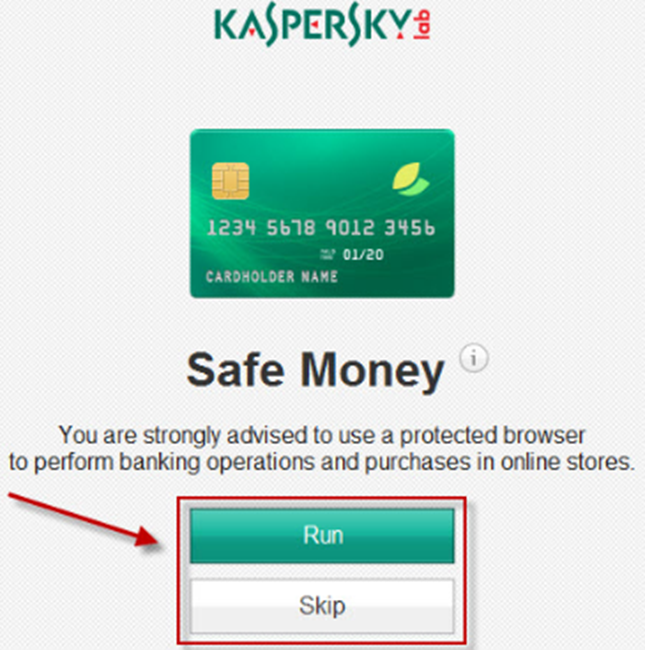 This feature has been improved in the new version of the program, permitting you to directly open a site from the notification area. You also have the option to manually include other sites that you want to access through a protected browser.
Virtual Keyboard
KASPERSKY TOTAL SECURITY
The included virtual keyboard fortifies online protection. You can use it to input username and password for your online banking site and other sites. This adds an additional layer of security in case "Total Security" was unable to detect and quarantine the latest keyloggers.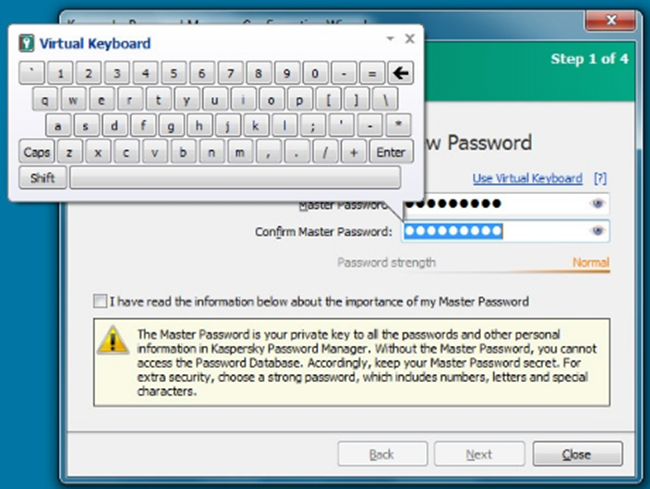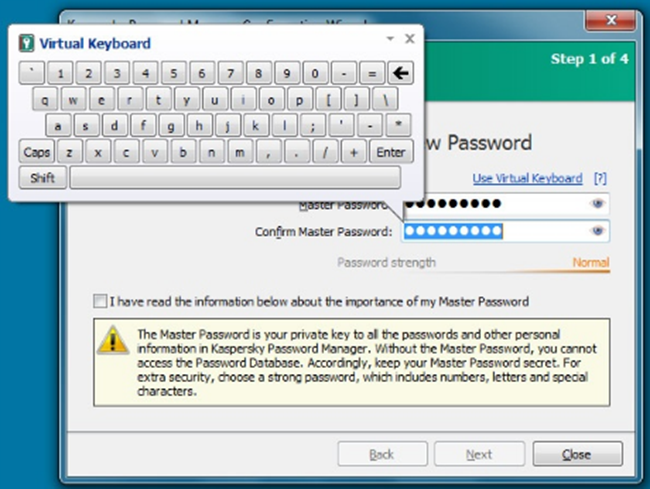 Those who have used a previous version of this security program might take some time to understand the menu, as Kaspersky has overhauled it totally. This feature is also available for Mac operating systems.
Low on System Resources
BOTH
Unlike other programs of its category, I was surprised that both KTS and KIS hardly affected the performance of my computer.
Fast Scanning
BOTH
In addition, both these programs offer the fastest scan rate I have ever seen.
Windows, Mac and Android Support
BOTH
They are both available for Windows (version 7, 8, 8.1, and 10) Macintosh (OS X 10.12 or higher), and Android. However, some features are exclusively available only for the Windows platform.

Does Kaspersky Internet Security or Total Security Support iOS (iPhone & iPad)?
Well, unlike the Android, the offerings you can get for the iPhone include the following:
* Password Manager
For Password Protection and Management (If you do not want the free version of Password Manager, don't go for Kaspersky Internet Security if you need this).
* Kaspersky Safe Kids
To secure your child/children with parental controls and a GPS child locator (Do not select Internet Security version if you need this feature).
* QR Scanner
Scans images, websites, and texts to make sure they are safe for you.
* Security Cloud
This adapts to your life, by design, to keep you safe.
You can have all of the above for your iPhone/iPads. Just go to the website, scroll down a little and click on iOS (iPhone & iPad) and you'll see all of the above.
Award Winner
BOTH
Both these internet security programs have received the "performer of the year" award from PC Mag and AV-Comparatives.
I was pleasantly surprised by the vulnerability scan, which scans your system for potential ways through which it could be exploited. This permits you to take preventive action before disaster strikes.
More Features
Let us go through the other awesome features of these online security programs. Both the Total Security and Internet Security versions of Kaspersky software offer premium additional features free of cost such as:
• Privacy protection
BOTH
Guard the privacy of your family with these tools. This module prevents websites that you visit from collecting your data and tracking your online activities. This means that you will no longer be targeted with annoying advertisements.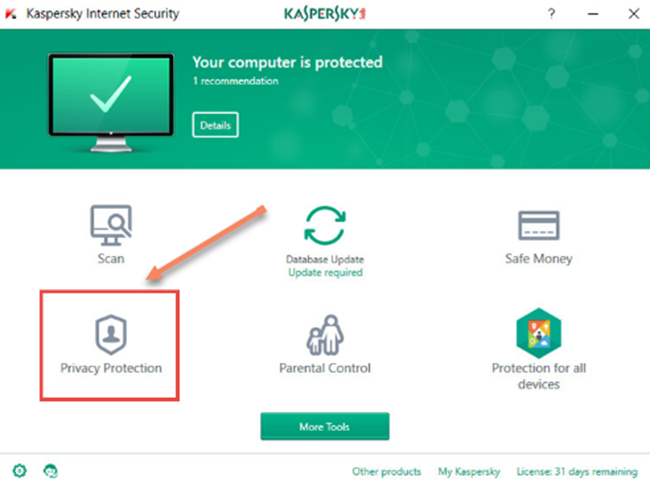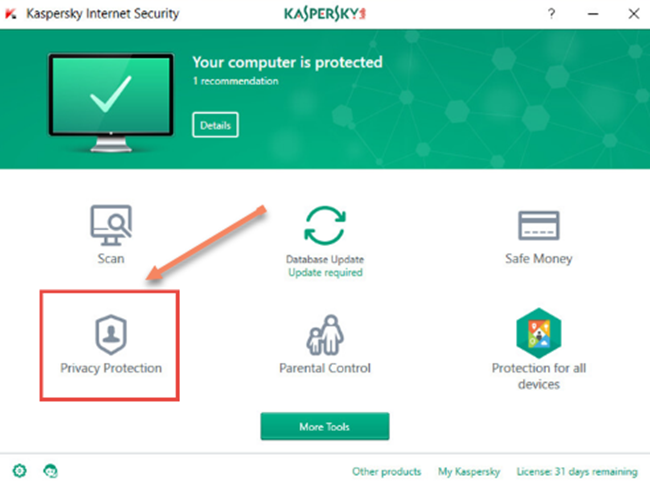 * Protects Your Webcam
BOTH
It also includes webcam protection that blocks unauthorized applications from accessing the webcam of your computer.
* Protection Against Phishing
BOTH
The anti-phishing module protects your browser from spoof sites that try to steal your identity. The new version of these two programs can detect and block the most sophisticated and latest phishing scams. These features are available on Kaspersky Internet Security (KIS) and Kaspersky Total Security (KTS).
• Free Secure VPN
BOTH
Mask your browsing details and prevent hackers from stealing your private data, bank data, as well as emails. You can even conceal your browsing details from your internet service provider.
Also, you can connect to the internet through a range of different countries, allowing you to access streaming music, movies, and live sport from sites blocked by your ISP. Unfortunately, this feature is not available in the internet security version of Kaspersky.
• Safe Kids
KASPERSKY TOTAL SECURITY
The internet is full of chat sites as well as adult sites. If this is not enough, your kids might be chatting on social networks with individuals who might cause harm to them.
Can you imagine the effect an adult site might have on the mind of your child if he or she accidentally visits it? The problem is multiplied, thanks to smartphones that permit your kids to access the net from anywhere.
Do you want to track the location of your kid and keep an eye on his or her online activities? The 'safe kids' feature, available on Kaspersky Total Security, boasts powerful parental control.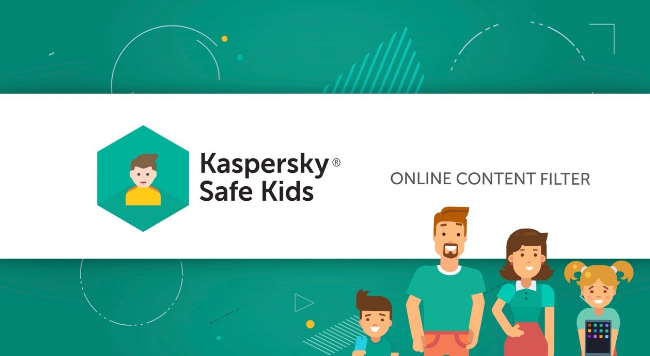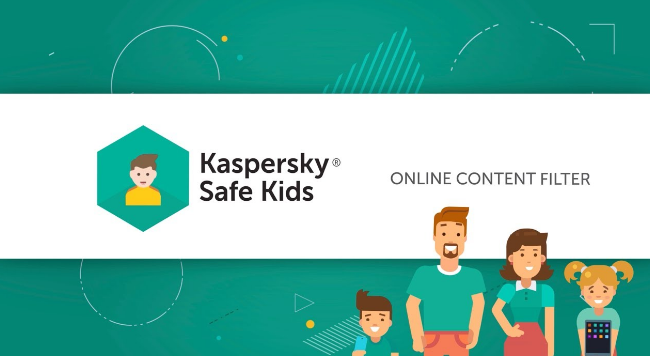 It includes a screen time manager, GPS child locator, and adult site blocker. This module further permits you to monitor the Facebook activities of your kids. You can easily find out if they are visiting sites beyond the safe areas you have specified. You can use this module to restrict the screen time usage of your kids.
It offers 14 categories of web filtering and you can flag each of them as allowed, forbidden, and warning.
This module offers solid location tracking, allowing you to view a map of the location of your child. You can use it to set geofences too.
• Password Manager (Free Version)

KASPERSKY TOTAL SECURITY
Why spend more money to purchase a dedicated password manager when you can get it for free with Kaspersky Total Security? I was pleasantly surprised by the functionalities of this module. The latest version allows the user to fill up web forms with payment and personal information.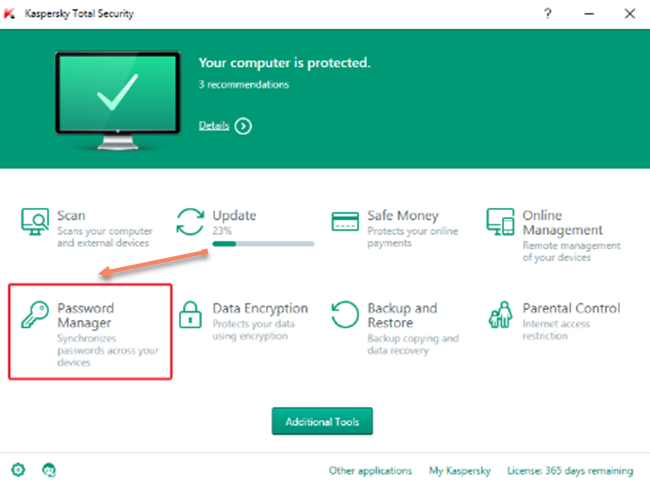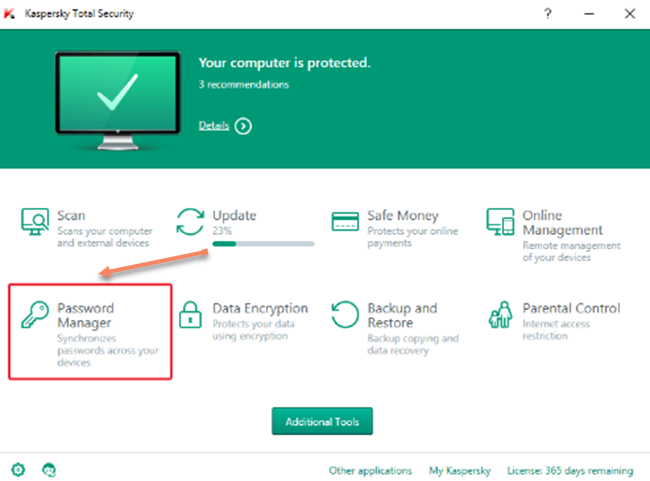 Apart from filling your login credentials automatically, it roots out weak passwords and automatically generates powerful new passwords. It stores all of your passwords in a safe and encrypted vault that only you can unlock.
This module synchronizes all of your data and passwords across all your devices.
Kaspersky Internet Security does not have this feature.
* Quickly Protect the Photos You Snap
KASPERSKY TOTAL SECURITY
With the Kaspersky Total Security version, you can snap photographs directly from smartphones and send them to secure storage. You now can find images of sensitive documents and store them securely.
Are you aware that malware can easily copy sensitive files and pictures on your computer and send them to someone else, who can potentially sell this vital information to your competitors? You can prevent this from taking place with the help of this module.
* Protection for All File Types
TOTAL SECURITY
This module protects precious memories like music and photographs, as well as important documents from being stolen by encrypting them and creating backup copies of the same on a cloud server such as Dropbox.
Are you aware that deleting a file does not remove the data from the hard disk drive of your computer? People, with suitable file recovery software, can easily access these files.
* File Shredder
TOTAL SECURITY
The file shredder component of this module deletes important files that you no longer require by shredding them. It becomes impossible to recover those files once they have been shredded. Unfortunately, this module is not present in Kaspersky Internet Security.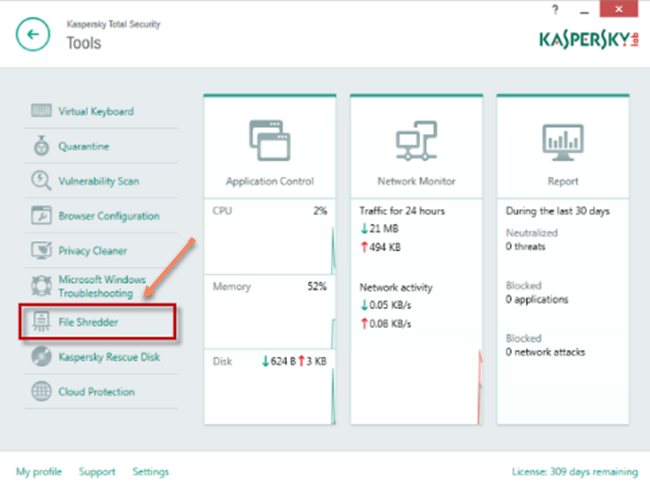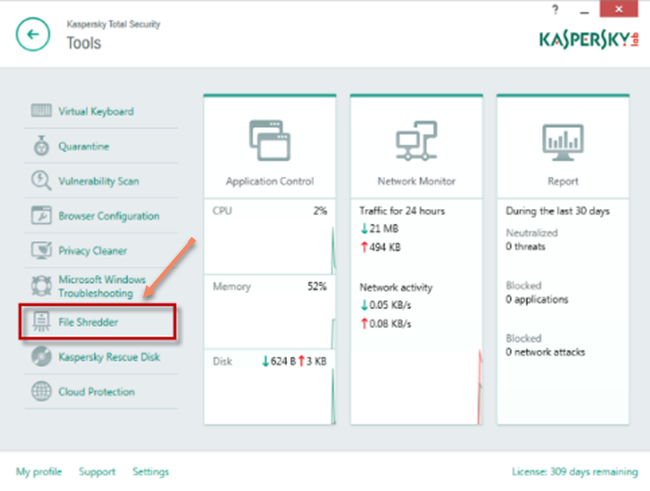 • Security without Compromising on System Resources
BOTH
I have tested several similar programs before, and most of them slowed down the functioning of my computer as they ate a lot of system resources.
This is not the case with Kaspersky Internet Security and Kaspersky Total Security as they both keep scanning the hard disk drive of your computer without putting any drag on your system resources. Apart from scanning your devices continuously, it helps improve device performance as well.
• Secured Connection
BOTH
Although Kaspersky Internet Security has fewer functionalities when compared with Kaspersky Total Security, I was delighted with its secure connection.
This functionality encrypts your data while sending them online. This means that I can easily depend on it to protect my laptop or mobile device against hackers when surfing online through a public WiFi connection.
Although Kaspersky Total Security, too, has this functionality, I would rather use its VPN (Virtual Private Network), which offers me a higher degree of protection, and allows me to access websites blocked by the ISP of the network I am using to access the internet.
Is Kaspersky Total Security Better than Internet Security?
There is no doubt that Kaspersky Total Security is more powerful than Kaspersky Internet Security. Although both of them are designed to protect your computer against attacks by malicious bits of code, the former has additional advantages such as a virtual private network, a file, music, and movie protection module that encrypts those files, preventing others from opening them.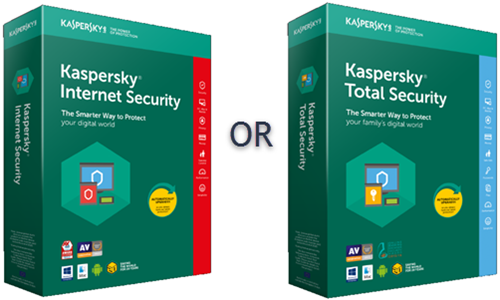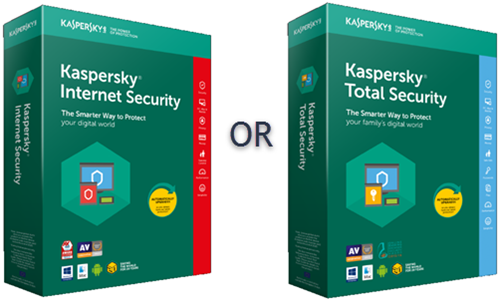 For example, your employee will not be able to open these files and view them even if he or she can access them.
Apart from this, Kaspersky Total Security also creates a backup of these files on the user's Dropbox online cloud. This is a blessing in disguise in case you accidentally delete an important file.
Is Either of the 2 Versions of Kaspersky Good or Bad?
There is no use discussing if any of the two programs is good or bad. On the contrary, I suggest that you download any one of the above two programs, install it on your PC, and run it. The number of malware it detects will surprise you.
Apart from detecting and quarantining the malicious programs, both these programs also build a shield, which protects your computer's hard disk drive against infection. They also prevent your browser from visiting malware-infected sites and provide you with an on-screen warning too.
Automatic Updates
BOTH
Both of them have auto-update functions, meaning that the program automatically updates itself with the latest antimalware signatures as soon as they are released by the vendor.
Kaspersky Internet Security vs Total Security Review
Although the details provided earlier in this review provides you with comprehensive information about Kaspersky Total Security compared to Internet Security, this review would be incomplete without providing the pricing details of the above two programs.
Find below the best prices for the two versions of this program. This will help you make an informed decision as to whether Kaspersky Total Security or Internet Security is suitable for you.
Prices
You can download trial versions of both these programs that work for 30 days, after which you have to purchase the program.
Here are the discounted prices, as offered by the vendor.
Kaspersky Total Security
The price for two user accounts are:
• 5 devices for 1 year costs $49.99
• 5 devices for 2 years costs $85.99
• 5 devices for 3 years costs $111.98
• 10 devices for the same periods are $74.99, $129.99, and $167.98 respectively.
Prices for Kaspersky Internet Security
• 3 devices for 1 year costs $39.99
• 3 devices for 2 years costs $68.99
• 3 devices for 3 years costs $89.98
• 5 devices for the same periods cost $44.99, $77.99, and $100.98 respectively.
Summary
Both Kaspersky Total Security and Kaspersky Internet Security provide a similar level of protection against viruses as well as other threats. They also have identical malware signature detection and blocking abilities. The difference for Kaspersky Total Security comes via the number of additional features and devices it can protect.