As a designer of PowerPoint templates and a music composer who promotes his products through the JVZoo platform, you might feel both angry and disappointed when hackers hack into your site, download its contents, and release them on blackhat forums and groups even before the release date. It means a loss of revenue for you.
Internet marketers, especially those that sell digital goods and software, are the primary target of these hackers. It is because of the lack of security provided by WordPress on its own. In most cases, the hackers use a simple query to find the download URL or they somehow find the index and proceed from there to other sections to download all of your goods.
Apart from the front-end offers, funnel hackers navigate their way to "one time offer" (OTO) 1, and 2 and download premium content from there too. Remember, WordPress is the most popular content management system in the world and powers more than 40% of websites on the internet, making it a popular target for code injection, hacking attempts, and malicious attacks.
You Need to Block Hackers from Accessing Your Site
You need to find a way to stop hackers from carrying out this nefarious task as soon as possible. Thankfully, you can now depend on two WordPress plugins that prevent cybercriminals from accessing and pilfering the content of your site. In this review, we shall conduct a Sucuri vs Wordfence comparison to find out which one is more powerful.
Quickly Navigate to:
Ease of Use for Both Wordfence and Sucuri
Setting up the plugins is quite easy. The plugins will ask you to provide an email address where you would like to receive security notifications immediately after installation. You also have to agree with their TOS (Terms of Service). Following this, you will observe an onboarding wizard, which will assist you to become familiar with the plugin's dashboard. You'll get to know where to see scans and security notifications.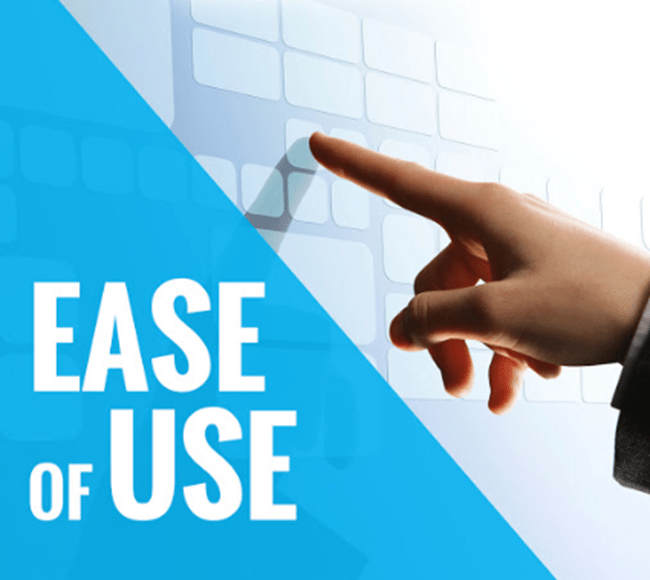 As with other website security plugins compared to either Sucuri or WordFence, the plugins run automatic scans in the background. The firewall applications are also turned on with the website learning mode immediately activated. You will see notifications when the scans are completed, depending on the size of your website. Clicking on a notification will display its details with suggested actions that you need to take. For example, while we were evaluating these plugins, a notification from Wordfence showed us that the WordPress theme in use has a newer version available.
What Is the Difference between Sucuri and Wordfence?
Sucuri and Wordfence both guard your website against malicious attacks and hackers. However, the difference between the two is that Sucuri protects your website against DDoS attacks, zero-day exploits with cloud-based remote scanning, and SSL support while Wordfence scans locally and includes some system security tweaks.
Wordfence vs Sucuri
To delve deeper into the differences between Sucuri and Wordfence, I shall first evaluate each one of them individually, in a bid to tell which one is better at protecting your WordPress site.
Wordfence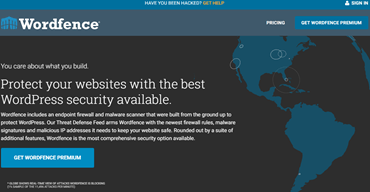 Wordfence is available as a free and paid version. I strongly recommend that you go for the paid version, as it has many more features than the free version, as well as free support.
Installing WordPress plugins is easy for those who have never used plugins before. You can also copy the plugin folder to the wp-content/plugins folder in your WordPress directory to install the plugin to your WordPress site. You will now find your newly uploaded plugin in the list when you navigate to your Plugins admin screen.
The default settings of Wordfence Security should work for the majority of websites. You can also configure the plugin as per your requirements by visiting the Wordfence –> Options page. You can change the settings as you want. This extremely powerful plugin contains an extensive set of options and features.
Before you proceed further, set up the basic options of the plugin. This includes providing an additional email address for alerts and disabling or enabling the core plugin features. Clicking the "advanced" button at the bottom left of the screen brings up the advanced options page in which you can change how the plugin performs and behaves on your site.
Apart from alerts, you can disable or enable events about which you want to be notified. You will get a lot of emails from Wordfence as alerts if you run a busy website. Not all of these alerts are harmful activities.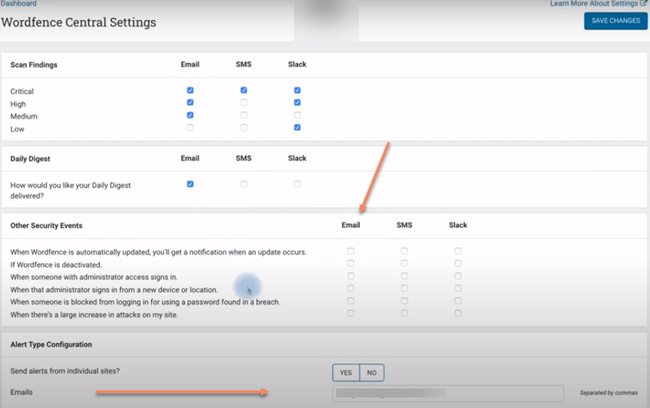 Then there are scan and firewall rules. You can set which directories and files to scan as well as adjust firewall behavior. I suggest that you do not change the settings in the advanced section unless you know what you are doing.
NOTE! Remember to click the "save changes" option when you are done.
Scanning for Malicious Activities
The plugin includes a robust scanning tool. Navigate to Wordfence –> Scan to start the scanning process. The plugin will check your WordPress site for threats such as MySQL injection, backdoors, suspicious and malicious code, etc. Upon completion of the scan, the plugin will show you the issues it detected. You will see detailed information about each issue with advice on how to fix it.
If you suspect that the security of your site might be compromised, it is always a good strategy not to rely on just one tool.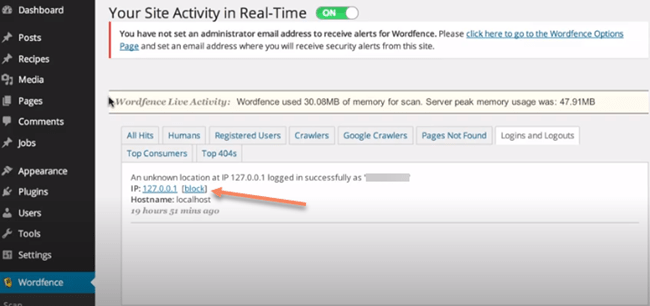 Monitor Live Traffic
A significant number of the traffic of any site comes from automated bots (robots) such as automated spam bots, data mining bots, and search engine crawlers. This is normal and you need not worry about it. However, if your site faces a DDOS (Distributed Denial of Service) then you will see a huge number of hits to your website from specific IPs. You can monitor and block these IPs in real-time using Wordfence Security's traffic tool.
However, this tool is helpless against sophisticated bots that change their IP address as soon as you block a particular IP.
Notifications and Security Monitoring
Wordfence boasts of an excellent alert and notification system. Notifications will be highlighted beside the Wordfence menu in the admin sidebar and dashboard of WordPress. They are highlighted based on their severity. To learn more about a notification as well as how to fix it, just click on the notification. To see such notifications and fix them, you have to log in to the WordPress dashboard.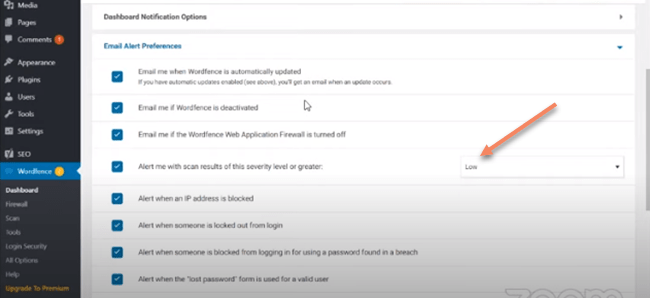 As mentioned earlier, WordFence boasts of instantaneous email notifications. Go to Wordfence –> All Options page and scroll down to the 'Email Alert Preferences' section to configure email alerts. You can also select the level of severity to send an email alert.
Cleanup of Hacked Sites
Wordfence does not include site cleanup service in their free/ premium plans. They sell it separately as an add-on service. You get a premium Wordfence license for one website when you purchase Site cleanup.
The malware cleanup process is quite straightforward. They will clean up all infected files after scanning your website for infections/malware. Their security team will also inspect how hackers got access to your site. Following this, they will send you a detailed report about the cleanup process along with recommendations for future prevention.
Website Application Firewall
Attackers can easily bypass a cloud-based firewall, and break encryption. This is not possible when you install the Wordfence plugin, as it runs on your server, the endpoint, providing better protection than cloud-based alternatives. Unlike the firewall of cloud-based solutions, the firewall offered by this plugin does not need to break end-to-end encryption. I strongly suggest that you opt for the Wordfence premium version that has many more facilities than the regular version.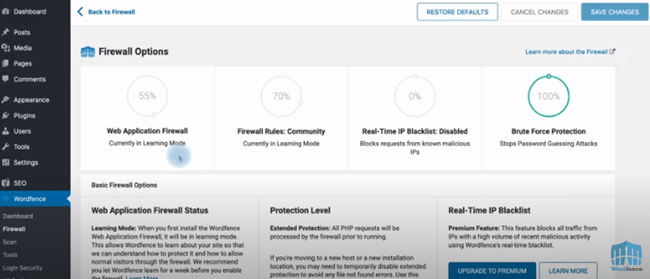 The pricing for a single plugin for a single year is quite affordable. You get hefty discounts for purchasing the license for two or three years as well as when you purchase more than one license. For example, you get a whopping 25% discount if you purchase 15+ licenses for one year.
This ends the WordFence review. Let us check the features of the Sucuri plugin to determine if Wordfence is better than Sucuri or not.
Sucuri WordPress Plugin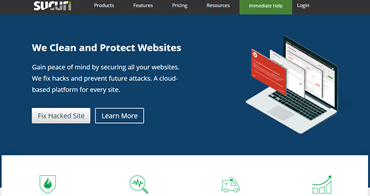 I shall now list the features of Sucuri to compare Sucuri and Wordfence to find out which one is better.
I was impressed by the overall user interface. However, I had to dig deeper to locate the options I was searching for. An extra step that is required to set up the firewall of Sucuri is updating nameservers on domain registrars. Even though it is easy to set up, this can prove to be difficult for non-techy users. However, most popular domain registrars such as GoDaddy and Domain.com, etc. will be able to help you set it up. Or the Sucuri support theme can help you to update the nameservers. This is a feather in the hat of Sucuri.
The basic setup process is the same as that of Wordfence, but that is about all regarding how similar Sucuri is compared to Wordfence.
Website Application Firewall
The cloud-based website application firewall of Sucuri blocks suspicious traffic even before it reaches your hosting server. This instantly improves your website speed and saves you a lot of server resources.
The CDN servers of Sucuri are located in different geo regions which further boosts website speed.
You will need to change the DNS settings of your domain name to use the firewall. This change allows your entire website traffic to go through the servers of Sucuri. This plugin has no basic or extended mode.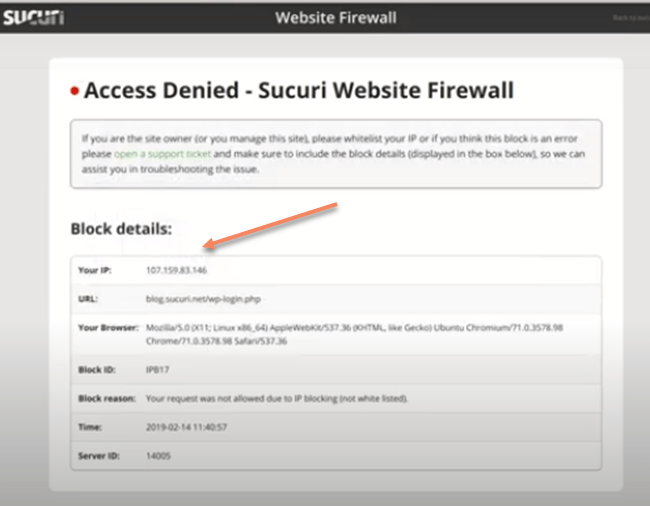 The Windows application firewall of Sucuri would start protecting your website from password guessing attempts, DDOS attacks, and malicious requests once setup is complete. The sophisticated and powerful machine learning algorithm prevents false positives.
When you experience DDOS, Sucuri allows you to shift from High-Security mode to Paranoid mode. This prevents your website's server from crashing. This is another good feature of this plugin.
Sucuri scores higher than Wordfence in this sector.
Notifications and Security Monitoring
Sucuri shows critical notifications on your dashboard as well. The screen's top right corner is devoted to displaying the status of core WordPress files. You will see the site health status and audit logs below that.
The plugin comes with a comprehensive alert management system. Switch to the alerts tab by visiting the Sucuri Security –> Settings page.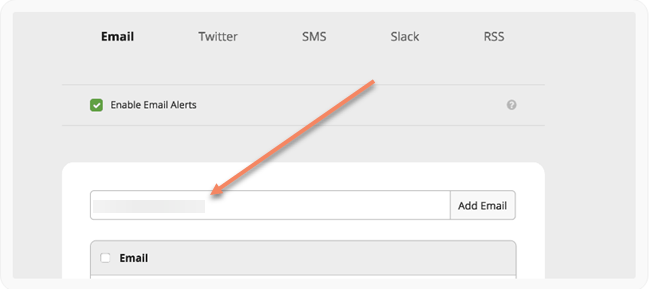 If you want notifications sent to specific email addresses, simply add them. You can further customize email alerts after that. You can select the number of alerts per hour, events about which you want to be notified, as well as customize settings for alert email addresses, post types, and brute force attacks.
Sucuri's WAF will also send automated high-level alerts to your email.
Both Sucuri and WordFence are equally good in security monitoring and notifications.
Scanning for Malicious Activities
The malware scanner of Sucuri makes use of Sucuri's Sitecheck application programming interface. To ensure that your website is not blacklisted this application programming interface automatically checks your website against multiple safe-browsing application programming interfaces. It automatically checks the integrity of your core WordPress files to ensure that they're not modified.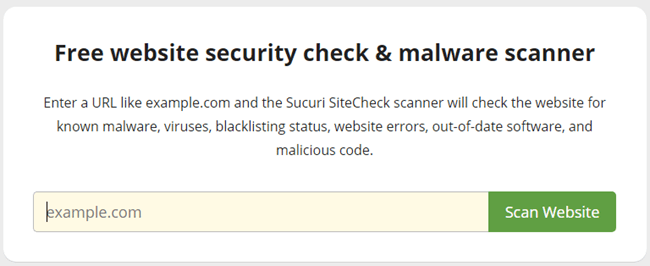 To customize the scan settings, navigate to Sucuri Security –> Settings page, and click on the scanner tab. Since the free scanner of Sucuri runs on your website's publicly available files; therefore, it is amazingly good at spotting any type of malicious code and malware. A bonus is that it is also less invasive on your server resources.
Sucuri is the winner again!
Cleanup of Hacked Sites
A website cleanup service is included with all paid Sucuri plans. This includes WAF protection, SEO spam repair, blacklist removal, and site cleanup for future prevention. The company is good at cleaning up backdoor access files, injected spam code, and malware.
The process is extremely simple. Their team will start working after you open a support ticket. The technical team will make sure you have everything automatically backed up and keep logs of all the files they touch. They will also go ahead with the cleanup process by accessing your cPanel or FTP/SSH with the aid of your login credentials.
The website cleanup process of Sucuri can be summarised in the diagram below:

Both the plugins scored equally in this process. This ends my Wordfence and Sucuri review.
Is Sucuri Better Than WordFence?
No two plugins of the same type, and manufactured by different companies are the same. Some of them will be better than the others, as I found out when I tried to compare Sucuri and WordFence.
I have outlined the major features of WordFence and Sucuri together to determine which is better. I had to evaluate both the plugins thoroughly to decide if Sucuri or WordFence is the better choice. I can, unhesitatingly, say that Sucuri is the outright winner. It has some cool features that WordFence does not have. Additionally, Sucuri consumes fewer system resources.