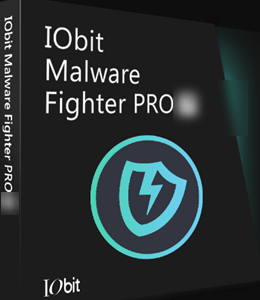 You need to be extremely careful when surfing the net nowadays. Even a simple task like clicking on a link to visit a site offering pirated software might infect your computer with one malware or the other.
Most computer manufacturers include OEM operating systems and antivirus too. The problem is that the quality of the antivirus provided leaves a lot to be desired and it can rarely protect your computer from the latest types of threats such as Trojans, spyware, cryptoware, keyloggers, and much more.
If this is not enough, your system remains compromised, allowing hackers to break into it and steal your personal data.
No doubt, you'll come across different types of antivirus and antimalware programs, each claiming to be the best. The sad part is that quite a few of them do not allow you to download a trial version of their program, and even if they do, the download page is not displayed on their index page.
What is IObit Malware Fighter Pro?
The IObit Malware Fighter is both an anti-malware and anti-virus program that protects Windows PCs against Ransomware, virus and all types of malware. It is also a malware removal tool. It does all these in real-time. Currently, its latest is version 9 Pro.
Review of IObit Malware Fighter 9 Pro

You do not need to worry, as I will provide you with details of the best combination of anti-virus, anti-malware, and anti-ransomware engines. I have, over the years, tested many such programs, and have found IObit malware fighter to be the best. Keep on reading to find out why.
A Renowned Computer Safety Company
Chances are likely that you have used one or the other software of IObit such as Driver Booster, Smart Defrag, and IObit Uninstaller. Therefore, I need not stress about the quality of programs developed by this company.
At the onset of my IObit malware fighter review, I would like to point out that this is one of the rare companies that offer a free version of their program. Yes, you read it right. You can download IObit malware fighter free of charge, install it on your computer, and scan your PC. You will be surprised by the number of infections your existing antivirus could not detect.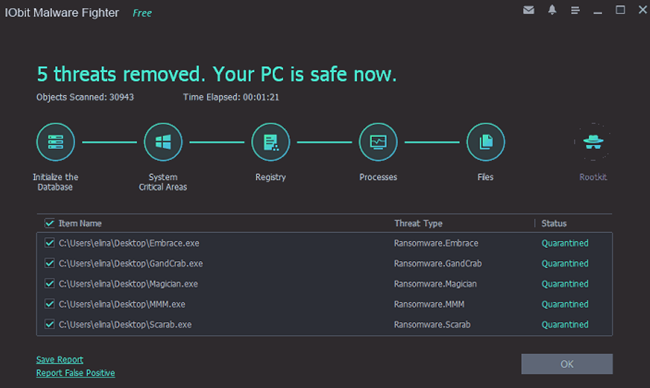 Do not waste your time searching for IObit anti-virus, as the IOBit anti-malware also contains an antivirus module. This means that searching for a download of IObit antivirus will redirect you to their malware fighter page.
However, the free version of this awesome tool has limitations as it only offers basic real-time protection against malicious behavior as well as basic anti-malware protection. It will detect cryptoware, but will not be able to remove them.
You require the pro version of IObit malware fighter for that. In fact, I will be concentrating on providing you with an IObit malware fighter pro review, as that is what you need to keep your computer secure and free of infections.
Downloading Malware Fighter 9 Pro

Be prepared for a surprise when you visit the vendor's site. You will find that it contains the same detection engine used by Bitdefender, the world leader of computer security programs. Those who have not read my review of Bitdefender ought to know that it is the most powerful computer security program available, and the only one that offers multi-layer protection against cryptoware.
Bitdefender Engine Inside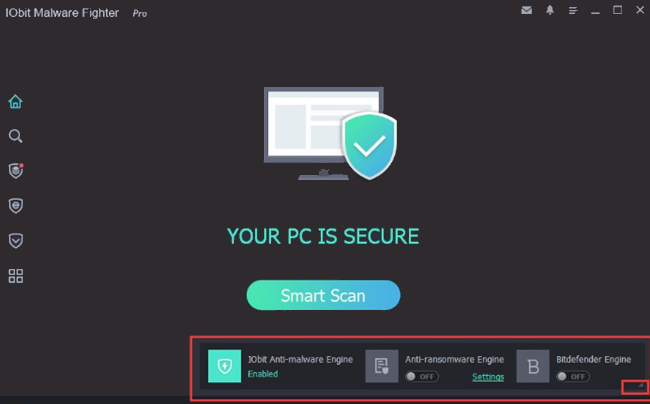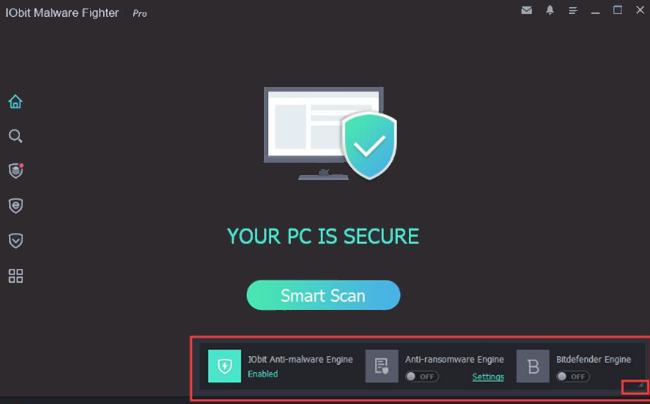 Apart from this, their antivirus engine provides unbeatable virus and malware detection and removal. Thanks to this, you can rest assured that your computer is protected against ransomware attacks, as IObit malware fighter pro 9 detects and avoids cryptoware proactively, and disables ransomware infected files from infecting other files on your computer's hard disk drive.
In addition, the tough IObit security system prevents malware from spreading through your business computer network by protecting it in real-time against infections through a USB flash drive. The camera safety guard prevents unauthorized persons from using malware to turn on your computer's camera and view your actions, and along with it, the rest of your office.
Only Available for the Windows Operating System
There is some bad news for Mac users, as IObit anti-malware is only available for the Windows operating system. The program supports Windows XP (yes, many companies that cannot afford the latest avatar of Windows run on this version), 7, 8, 8.1, Vista as well as Windows 10. As it is available for both 32 bit and 64 bit systems, you should face no problems installing it on your Windows-based computer.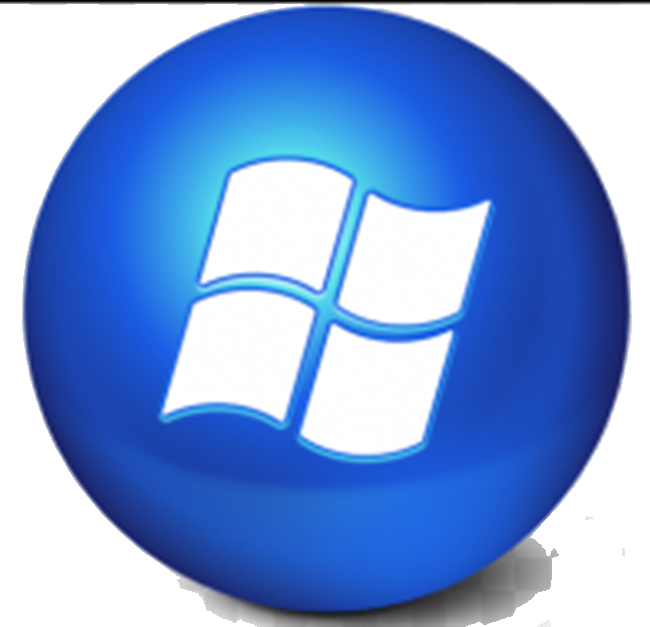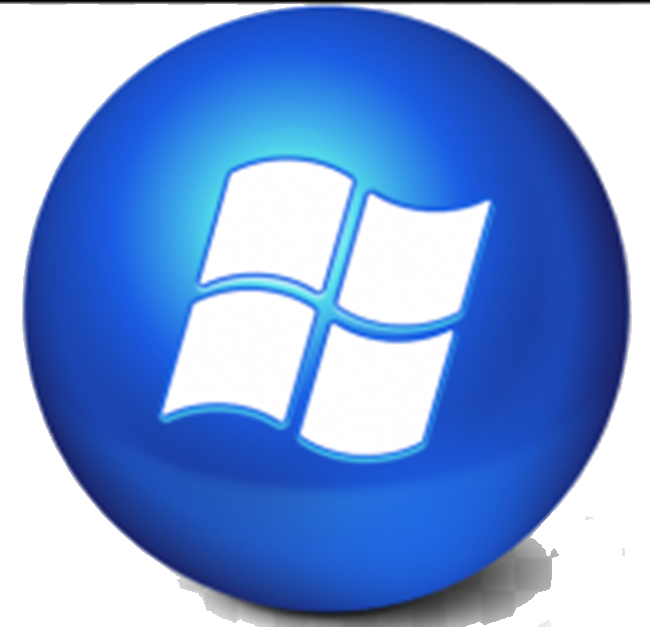 The special antivirus IObit malware fighter 9 contains, is the best in its category, and is able to ward off attacks by all types of known viruses and unknown ones too because of its heuristic analysis capabilities, a method employed by certain antivirus software coded to detect previously unknown viruses, and new variants of viruses already in the "wild".
Now that you have understood the basics of this awesome virus and malware protection program, it is time to understand, in-depth, its abilities. I put to test the malware fighter by IObit and found out these amazing modules.
Modules
As mentioned above, the IObit malware fighter 2022 pro version can easily detect cryptoware like NotPetya and WannaCry while the computer is booting. The moment it detects ransomware, it reboots your computer in safe mode. After this, it finds and removes cryptoware along with rootkits that are impossible to remove after Windows has loaded because they remain hidden in the memory.
This program has the ability to detect malicious processes running in the RAM and eradicate them by booting in safe mode as described above. You have the option of keeping your important files and documents separately in a vault, which hackers cannot access.
Fast Scanning
The scanning engine of IObit Malware Fighter Pro is roughly 130% faster than other programs of the same category. This holds good for the free version too. For added security and safe browsing, it blocks popup ads and anti cryptocurrency mining in both free and paid versions.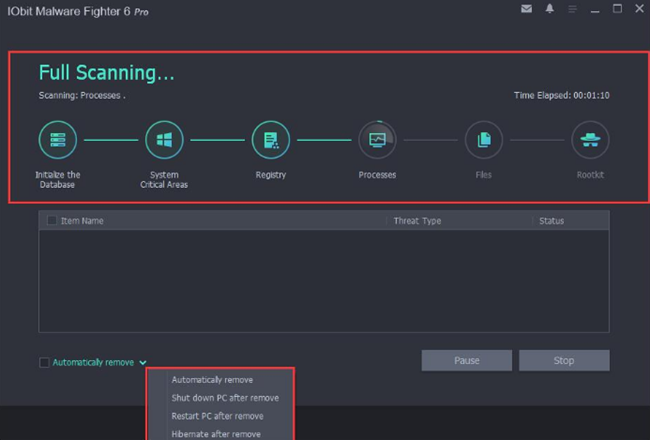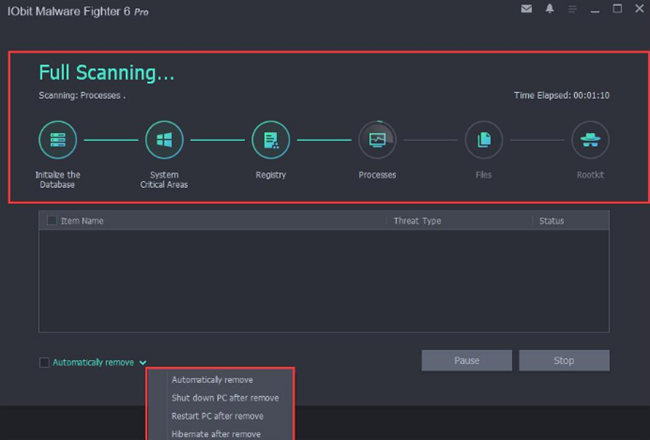 Program Automatic Updates
The scan engine gets updated several times a day and the main program also updates whenever a new version is released in the market.
Price
You get all these features for only $19.95 when you opt for the IObit Malware Fighter Pro. This gives you a one-year subscription for one PC. This is much cheaper than other similar programs available online. This program contains DNS protection along with an improved homepage.
You can access most functions with a single click of your mouse button.
The IObit Malware Fighter Pro Review Summary

To sum it up, the IObit Malware Fighter Pro is one of the most powerful antivirus and anti-malware programs available today for the Windows operating system. It is so easy to use that even persons who have zero knowledge about the software can use it to detect threats and eliminate them before they can pose a threat.
Even Detects Unknown Malware
It has the ability to detect yet unknown malware, thanks to its heuristic properties. If you still have any doubts about the performance of this program after reading this IObit malware fighter review 2022, I suggest that you opt for the IObit malware fighter latest version free download, install it on your PC, and scan its hard disk drive.
You will be so pleased with its detection rate that you will have no option left than to download IObit malware fighter, particularly if you have read this review thoroughly. Visit the website of the vendor and click on the "Buy Now" icon.
Did you notice the popup offering a free diagnosis of your computer's hard disk drive by dialing a toll-free number while hovering your mouse's pointer over the "Buy Now" icon? Anyway, click on the icon. Your browser will be redirected to a page where you can make the payment through a secure payment gateway.
You will receive a serial number in the email you provided in the form, which you can use to register the software after downloading it by clicking on the IObit malware fighter 9 pro download link. You can work with peace of mind after you download IObit malware fighter, install it, and register it, knowing that your computer is secure against all types of malicious attacks.